M.B.B.S Se Hatke Lovology me Atke. DMG is a tv show which airs on Star One.
Thursday, 10 October 2013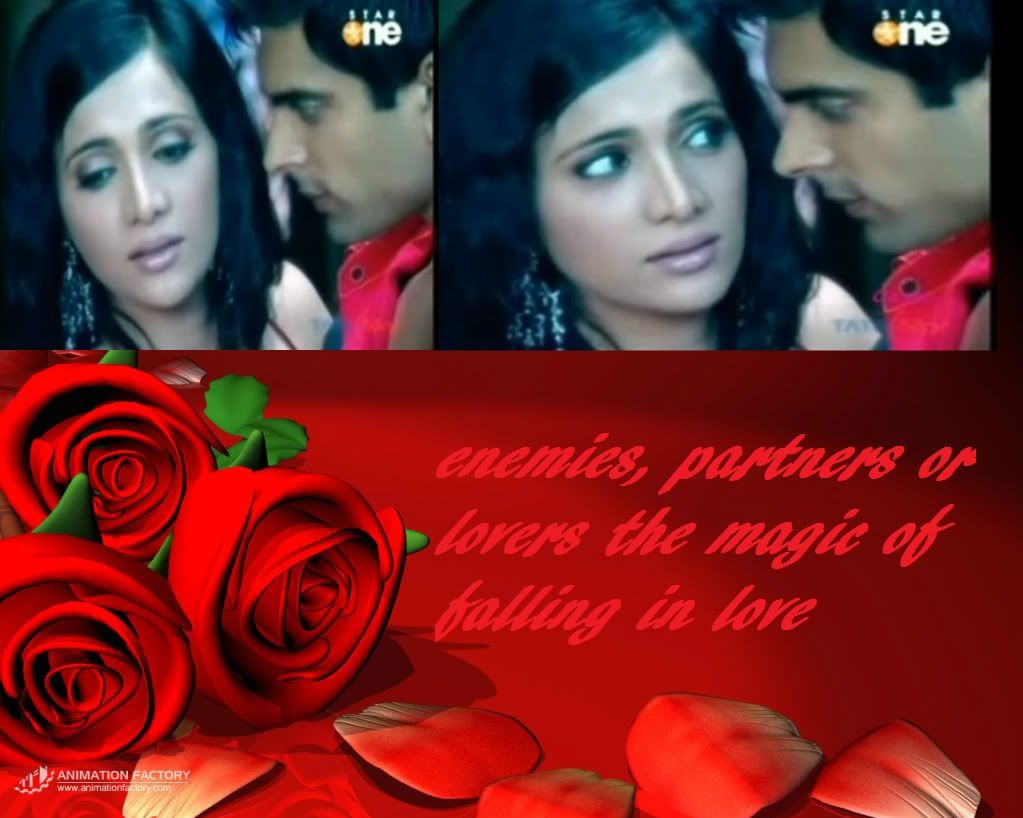 Part 18 
Armaan : oky I have to go guys mujhey ek idea aya hai mai usey manah kar hi rahunga 
Shasank : humey bhi apnah idea batov
Armaan: nahi uncle sorry ye toh surprise hai but apko mera kam ek kam karnah padega 
Sashank: bolo armaan  mujhey kya karnah hai 
Armaan: aap shona ko thik 7 bazey call karkey boliye ki apney gadi bheji hai aur usmey baitkar apkey pass ajaye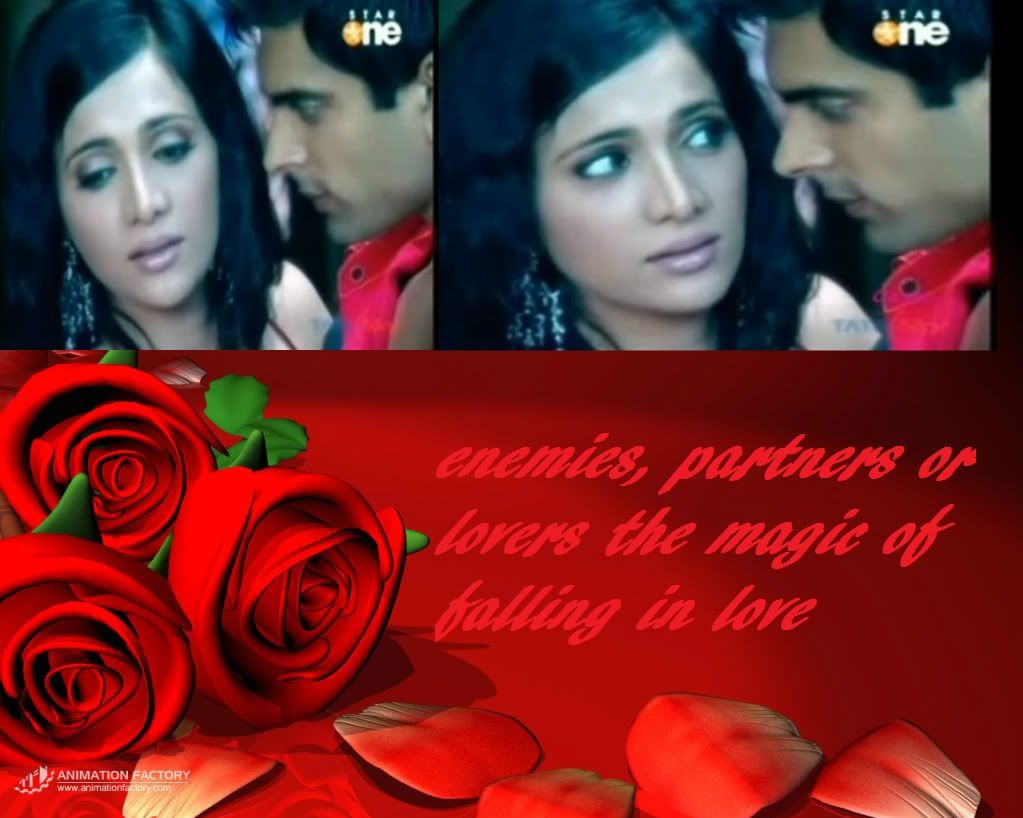 After lots of struggle shilpa cme out of his grip n showed z way out of her room n slammed z door on armaan's face
Ar:(mentally)wat the hell maine kya kardiya 
"Abh kaise manov shona ko armaan u r a real dumbo kisney kaha tha tujey usey shilpa bulaney ko wen u know her well ….vo jangali billi abh mujhey pakka kar khaleygi n all over, noways would be mrs. Armaan mallik mai tumhey kho nahi sakta tum meri ho n mai tumhara bas koi nahi juda karsakta humey badi muskil sey hum enemies sey partners baney phir lovers abh phir sey dushmani kabhi nahi mrs. Armaan mallik mai apko manah kar hi rahunga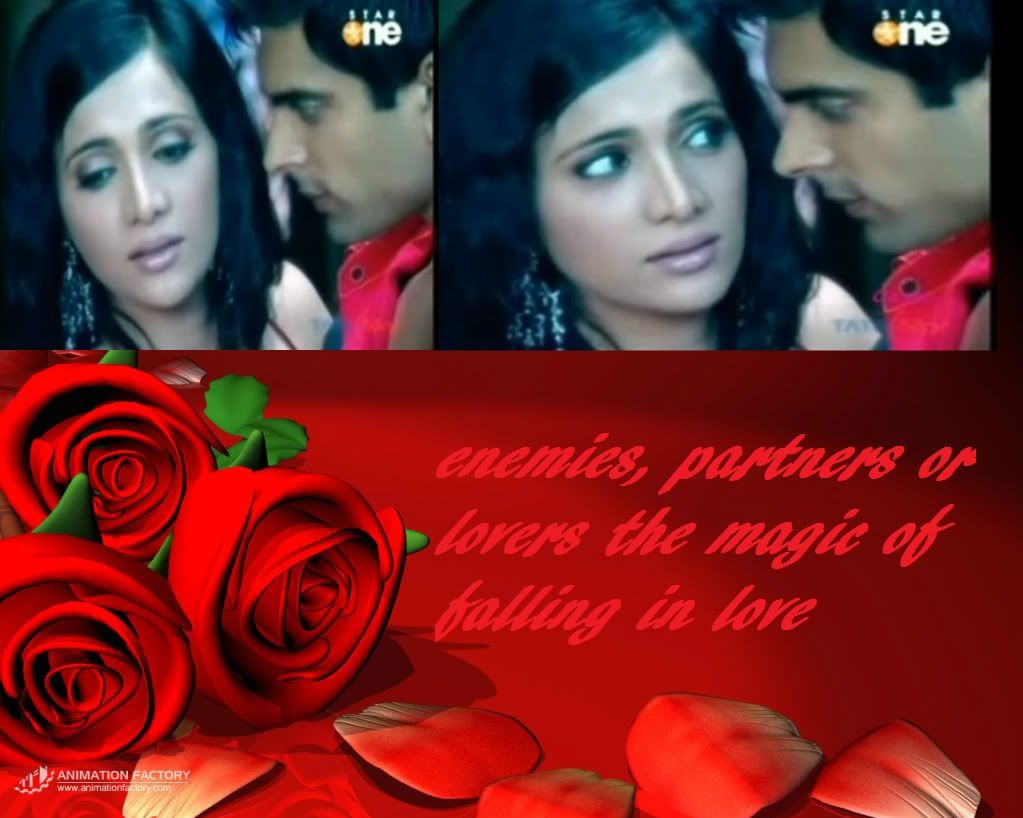 Sh(angrily):you duffer stupid dumbo leave where am wasting my words tum enemy hi thik the armaan mallik
Looking at her face red with anger he looked down shit armaan zyada hogaya lagta hain would be mrs shona mallik kuch zyada hi hurt hogayi  
Ar :I am sorry shona vo main gussey mey kuch jayda bolgaya 
Sh:(angrily)kuch zayada nahi armaan bohot zayada bolgaye tum now leave mai aur baat nahi karnah cahti yeha sey  joav tum abh 
Part 15
Recap: Sh:mmama tease mat karo and felt the door open behind hm feeling the change in air shilpa felt her heart beat increase 
Turning over her heel she saw her armaan whom she saw only in hr dreams for 5 long month running to him she hug him tight and parted when didn't feel him hugging her back
Sh(sadly):armaan
Part 14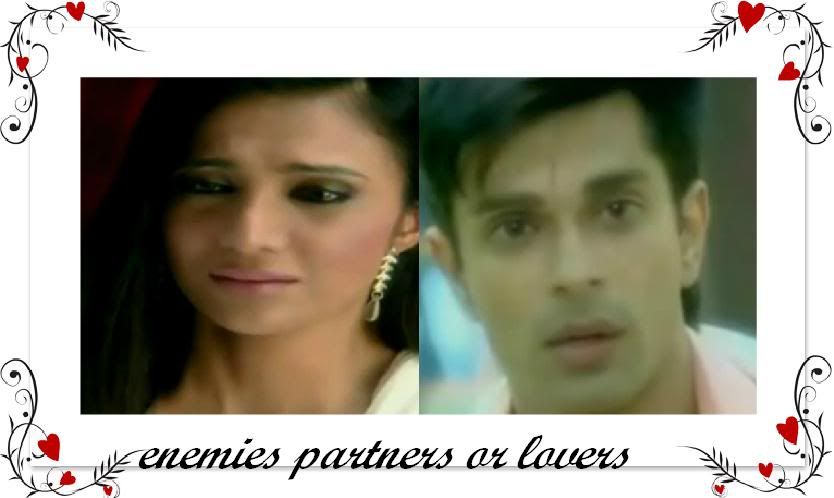 Recap: bil:armaan tumein 5 mnths khe liye london jana hoga he said mking bth luv brd eyes widden wiz shck 
Arm:what but why 
Bil;:armaan our London company is going through a terrible crisis and for the moment nor me me neither shanky can go 
Arm:but dad mein kaise jaa sakta hoon I have no sense of business 
Shnk(in serious tone): armaan we badly need you if it was possible either me or billy would have dne  it bache try to understand 
part 10
Going to her room he placed her gently on her bed
Arm(mentally):kitni soft hain aisa lagta hain khi haat lagathe hi useh chaort lagjayegi aur yeh mujhe kya horaha hain mein kabhi maya keh liyeh bhi itna concern feel nahi kartah tha jitna keh shilpa keh liyeh kartah hoon 
After giving her a light peck on the forehead he was out only to face the weird looks of padma,shasank,billy & Anaya
Part 9
In the uni 
Ma(to herslf):yeh armaan abhi tak kyun nahi aya
Vi(sarcastically):bari fikar horahi hain armaan ki 
Ma(wiz equal sarcasm):of course jaise ki tumme shilpa ki dress bohot pyari lagi thi mujhe toh kabhi compliment nahi diya
Vi:ab kya karun shilpa sach mein achi lag rahi thi & u knw I cnt lie 
Part 8
Mallik mansion 
Arm:mom mein uni jaa raha hoon
An:armaan kal tum kuch zyada pareshan lagrahe the kuch hua hain kya
arm(smilling):nahi toh don't worry meri pyari mumma im absolutely fine ok mein chalta hoon agar der hogaya toh shona im mean shilpa mujhe jaan seh madalegi ok he said kissing his mom 
Part 6 
In the car 
Sh(laughing):oww armaan u r grt yaar tumne maya ka chehera dekha shock keh mare bichari kuch bol bhi nahi payi 
Arm(stifling his laughter):haan aur tumme vivek ka chehera dekha kaise gusse seh lal hogaya 
Sh:waise tum partner bure nahi ho
Arm(smilling);tum bhi waise chalo main tumhe gahr chordun sham ko party mein bhi jana hain nah 
part 5
In armaan's bedroom
Sh(climbing beside armaan on his bed):armaan utho na dekho subha hogayi hain
Arm(pulling shilpa on him & nuzzling in her hairs):oh shona u looking so pretty & smelling so nice
Sh(blushing):choro armaan mujhe jaana hain tumare liye breakfast bhi banana hain aur phir tumme office bhi toh jana hain na
Part 4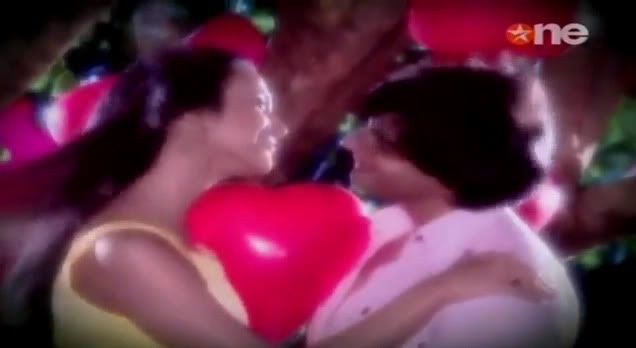 As soon as they entered the uni armaan & shilpa noticed all eyes on them
Sh(scarily joining her arm wiz armaan ):armaan yeh sab humme aise kyun dekh rahe hain sachi sachi yaar subha seh maine kuch bhi galat nahi kiya god promise
Arm(holding her hand):maine kahan kuch galat kiya subha seh toh main tumare hi saat tha na tumari bak bak jail raha tha
Ok this is my 3rd mini ff dedicated to anamika(jisne mujh bicharri ko dhamki dhi) sweety,dershika,punam di and jyotika 
Thnk u guys for all ur encouraging comments I hope u'll lke this one too
Enemies,partners or lovers (kafi weird title hain na bt actually I gt the concpt due to these three words itself)
Wednesday, 9 October 2013
karan  uttered smilingly..."aapke hathon par apna naam likh dun? "
Shilpa lifted her eyelids with a jerk and as her eyes met with the blue ocenic one  ,she lowered it at once.
Sapna whispered : "hayye! Dill pe toh kab se likhkar rakha hai….!
Shipa pinched her…"chupp! 
sapna smiled …..."chal shilpu,hath me hi le le...usey touch karne ka mouka milega."
Locker room:
Karan was fiddling into his locker when Sukriti and Shilpa entered. They were laughing about something and Shilpa seemed to be really excited. On seeing Karan, she ran to him and hugged him.

Sh: Karan!!!! Hi!! Kaise ho??
Ka: (taken aback) Theek hoon?..kya hua?
Sh: Kuch nahi. Mujhe dekh kar lag raha hai ke kuch hua hoga? Main to itni khush hoon.



Sukriti giggled as she moved towards her locker.

Ka: Haan. Wahi to. By 'kya hua' I didn't mean 'kya GALAT hua'.
Sh: I know! Apne Mom ko mat sikhao!


Amit and Shweta enter the Party. Shilpa's happiness knew no bounds while, karan just couldn't resist staring at her face. Shilpa runs to welcome them.


Sh: Guys!! Wow! Finally tum log agaye! Shweta! (hugs her and then checks her forehead and cheeks) Tabiyat kaisi hai tumhari?
Shw: (hesitant) Err..Main thoda better hoon.
Sh: Koi baat nahi. Ab tum yahan agai hona? Ab jaldi theek hojaogi. Waise tum log bilkul sahi time par aye ho!Hum log cake kaatne hi waale the!
Shw: Cake? Kisliye?
Sh: Err..Actually..iss party ko thoda aur interesting banane ke liye maine socha ke hum kuch different karenge. As ye prom hai, to maine socha..ke jo bhi prom couple sabse late ayega, usey saath mein cake kaatna hoga!Cool right?
Shw: (sarcastically) Yeah! Great!


Shilpa's Room:

Karan and Shilpa were playing Ridge racer. In the middle of the game, Karan's phone rang. He took it out of his pocket and checked the caller's name.

Ka: It's shweta.


Shilpa immediately put down her controller.

Sh: Put it on loudspeaker.
Ka: Hello shweta?
Shw: Hi karan. Kaise ho?
Ka: Main theek hoon.
Shw: Karan ek request hai.
Ka: Haan bolo.
Shw: Tum Shilpa ki party ke liye mere date banoge?


Party night:

Karan was standing at Shilpa's door. He felt nervous. Then he took a deep breath and was about to ring the bell when he noticed the door was a little open. He thought for a second and then hesitantly slid the door. When it was halfway around, he heard a voice.

Sh: Come on in!

He, now opened the door completely and went in.



Sukirti was working in the general ward were Pankit spots her and calls her out.

Suk: Kya hua Pankit?
Pan: Wo mujhe tumse kuch baat karni thi. Tum abhi free ho?
Suk: Abhi nahi..thodi der main meri break hai.
Pan: Acha? Wooow what a coincidence! Thodi der mein meri bhi break hai.


It was all really dark. He tried to look through it but failed. Suddenly, he saw this very bright light from somewhere. Then, he saw a figure. Yes! There she was. The light. It was nothing but her.


She turned with this smile on her face. Smile that is the sweetest of all in the world. Smile that knew how to steal his heart away. Wearing the white skirt blouse, That glowed so bright. She looked like a fairy. "She's an angel. MY angel! " he thought.


Amit's House:

Amit was lying on his bed thinking about Shweta and all that happened at the cafeteria. He was upset. Very upset. How could Shweta do this? How could she side Karan in front of everyone and talk against me? I was just trying to show her how hurt I was! Show her how her behavior was stinging me the whole time. How much I kept missing her and thinking about her and what did she do? She probably didn't even think about me ONCE! She just keeps thinking about Karan all the time. How can someone be so possessive in their friendship…so much to be ready to avoid their love. Unless…..unless this isn't just friendship. It can't be JUST friendship. Urgh! Shut up Amit! What are u thinking? U can't doubt Shweta like this! If she were in love with Karan..why would she be with me? Whatever it is..She's hurt me so much. She'll have to learn how to deal with relationships. This won't work like this. But it has to work somehow…or else this relationship will have to end. And I can't give her much time on this. She'd have to make it up to me…..And soon. Just then, his phone rings.


Next morning:

Locker room-Sanjeevani:

Suk:Shilpa aisi hi hai...koi bhi upset hota hai to wo kabhi usse directly uski problem ke baare mein baat nai karti...she says wo usse AUR upset hojate hain..ya baat karne se mana karke chale jaate hain.
Ka:U knw..mujhe pata bhi nai chala aur wo mere problem ka solution bata kar chali gayi.
Suk: (chuckles)Abhi to aisa buht kuch hai shilpa ke baare mein jo tum log nahi jaante.U knw Shilpa is the ONE girl I met jo relle buht different hai…aur buht special bhi.
KA:(to himself) Wo to hai!
Suk: Though she's a weird person par wo buht achi hai!