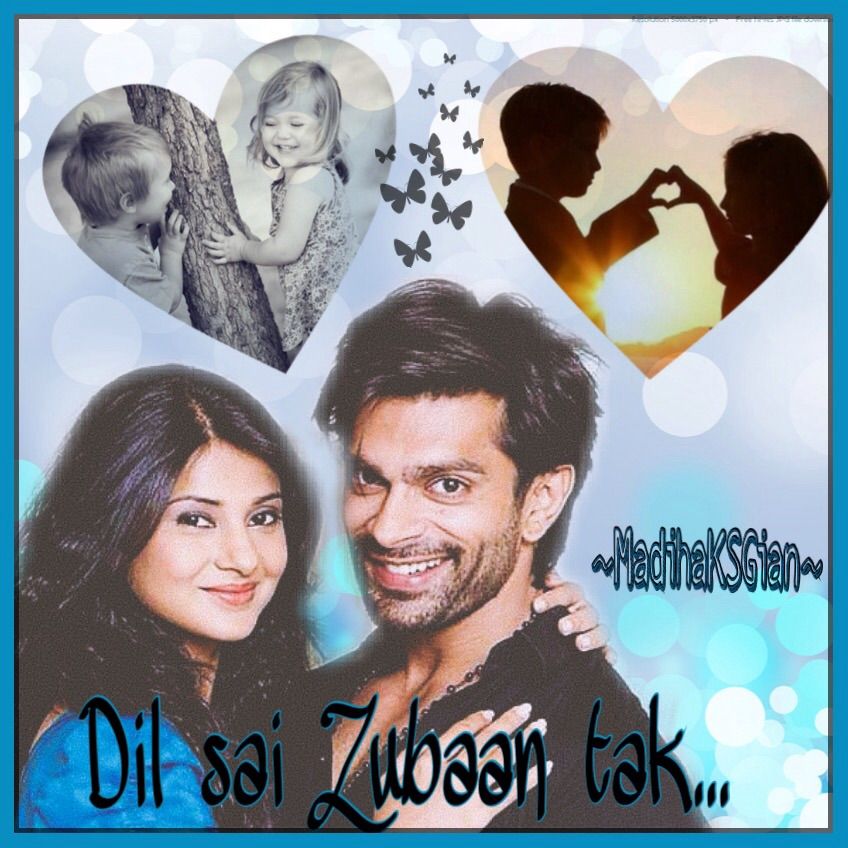 Shashank: Karan..yaar!! What a long time...(Shashank is over-joyed to meet his friend after so many years)
Karan: Shanky... I missed you too much yaar!!! (Karan takes no longer and hugs Shashank) waise tu budha ho gya.
Shashank: Nai tu to jawaan hai na abhi tak..!?
Karan: kya kare yaar hona parta hai..ab aisi sundar biwi aur handsome beta ho..to jawaan hona parta hai..!! (And he winks)
Shashank: yai baat to tune sahi kai..bhaabi ji to abhi tak waisi hi hai!! Kyu Padma?
Padma: haa..bilkul sahi keh rahe hai aap log..Nandini is khubsoorti ka raaz?
Nandini: kya aap log bhi.. (She shyly responds) Waise aap bhi kuch kam nahi Padma ji..abhi bhi waisi hi chamak hai aapke chehre par..!!
Padma: kya baat kar rahi hai Nandni..aur waise lagta hai aap sab bhul gai hai kai hamare bache bhi yahi khare hai!! (Pointing at Armaan and Ridhima)
Karan: oh haa..Shanky meet my buddy Armaan..mera beta!
Armaan: Namaste uncle!! (Comes forward and takes blessings from Shahshank)
Shahshank: jeetai raho beta..yaar Karan, kitna bada ho gya yai to!!
Karan: Bara kyu nahi hota..20 saal guzr gai..magar Princess kaha hai?
Shashank: yai lai tujhe teri princess aur meri beti sai milwaata hu..Ridhima beta!!
(Ridhima who had went to pick up the phone as it was ringing..comes back after hearing his father calling him)
Ridhima: Jee papa..
Karan: Princess..mujhe pehchana? Kaha pehchano gi..1 saal ki thi jab akhri dafa dekha tha tumhe..Your uncle?
Ridhima: Namaste uncle..Namaste Aunty..Uncle mai nai aap kai baare mai buhat kuch suna hai papa sai!!
And they continue to talk meanwhile Armaan can't take his eyes off Ridhima..
ARMAAN'S POV
I just felt so happy seeing my father meet his long lost friend..the whole family was just soo happy..I couldn't help but smile..but I was confused..whom was MY father calling PRINCESS?? I've heard this name many times from my parents and so I was really curious to know that who was she?? I was busy in my thoughts when a light wave of air started coming from the front..that is when I saw her..and Oh..she was beautiful..that glorious blue dress caressing her curves..making her look hot and beautiful at the same time..Moreover that mesmerising green eyes started to shock me..how could she have MY Ridhu eyes?!? Ridhu..that is when I realised what I was doing..I was checking out a girl and I was not allowed to do this..I had always loved Ridhu & I am damn sure I'll meet her someday..however pushing my thoughts aside..I came back to reality.
ARMAAN's POV ENDS
Shashank, Padma & Karan, Nandini are sitting in the living room while Ridhima is in kitchen and Armaan is out in the garden as he wanted to make a call..
Padma: Waise hum nai jo 20 saal pehle tai kia tha..kya yaad hai aapko?
Karan: Haa bhabhi ji!! Mai itnai saal wait kia par ab nahi hota..Apni Princess ko beti banana chahta hu!!
Shashank: Magar AR ki bhi to marzi jaani chahiye naa?
Nandini: wo kyu mana kare gai..bas aik dafa aik dusre ko ache sai jaan lai..
Shashank: hmm..waise mujhe lagta nahi wo dono naa kare gai..they just look made for each other!!
Karan: yai baat to tune theek kahi Shanky!! Kitni pyaari jodi hai..
(Ridhima comes out of the kitchen with a tray)
Ridhima: Aur yai aap sab ki chai (tea) ready!! (While giving a cup to everybody one by one)
Karan: (taking a sip) Wah princess!! Itni majze ki chai?! Lagta hai mujhe is ki aadat hone wali hai!!
Ridhima: Aap kabhi bhi maang lena..mai mana nahi karu gi..
Nandini: Acha beta..Armaan bahar betha hai, usai wahi chai dai do..okay?
Padma: Aur aisa karo kai tum bhi bahar baith jao..usai company mil jai gi..
Ridhima: Jii maa..
(Ridhima goes to the front garden of their house..it is very beautiful with some trees and flowers everywhere..at the corner of the garden a set of chairs and a table is kept whereas at the other side a big swing is placed, Ridhima searches for Armaan but he is nowhere to be seen, she is going back inside when someone places a hand on her shoulder)
Voice: Mujhe dhoond rahi ho?
Ridhima: (while facing him) Wo..actually..mai..
Voice: Arrey..sorry, I didn't wanted to scare you..mai to bas abhi aap ko dekha so..rok lia..BTW, I am Armaan! And you are..Princess?? (With a broad grin on his face)
Ridhima: Huh..Princess, nahi wo to mujhe sirf Karan uncle bulatai hai!!
Armaan: To mai kya bulau? (Smiling on her innocence)
Ridhima: Waise to pyaar sai log mujhe Ridzi kehte hai..but I am Ridhima Gupta..(proudly)
Armaan: hmm..Ridhima, nice name!!
Ridhima: wo actually mai chai lai thi..maa nai kaha kai aap ko baahar hi dai du..
Armaan: Oh right! Chalo udhar baith tai hai..(pointing towards the chairs)
Ridhima: yeah..okay!
Armaan: So tell me something about yourself..
Ridhima: Well..meray baare mai batane kai liye kuch hai nahi..I am just a simple girl..who loves her parents very much and I have just 3-4 close friends. Mujhe painting karna buhat pasand hai and I also love to dance..and future mai I want to be a doctor!! Aur kuch batau? (Laughing lightly)
Armaan: No..itna kaafi hai..but I can't disagree..you are kind of weird, pasand painting hai, love to dance & want to become a doctor??
Ridhima: TO...Mai sab kuch nahi kar sakti..kis book mai aisa likha hai kai aik insaan sirf aik kaam hi kar sakta hai?!?
Armaan: arrey..Itna ghussa? Mai to bas mazak kar raha tha!!
Ridhima: Mujhe aise mazak bilkul nahi pasand..however maine to apne baare mai itna sun lia, apne baare mai bhi to batao..?
Armaan: arrey..Meray baare mai mat pucho mai dil mai aata hu..Samajh mai nahi!! ;) Just joking..well, I really love basketball..and my friendzz..I can't see any of my closed ones in pain and Mai abhi apne papa kai business mai help kar raha hu aur future mai wo hi handle karu gaa..and most important person in my life is my best friend..(he stops sfter realizing kai us nai kuch zyaada bol dia..)
Ridhima: Hmm..no offence par mujhe basketball mai to koi nahi hara sakta!!
Armaan: Oh really!! Wo bhi dekh lai gai kabhi!!
(And after this first meeting..they start to meet more often, sometimes with family, sometimes alone and eventually they become really close friends..they start to share every thing with eachother but both have a little feeling inside them that stops them to go close to eachother and that is their bff's..still unknown, that they both are eachother's bff..and however there friendship is being noted by their parents who are thinking to get them married ASAP)
After 3 months..
Karan: Buddy..mai tum sai kuch zaroori baat karna chahta hu..
Armaan: Ji buddy, bolai..
Karan: Armaan, do you like Ridhima?
Armaan: Huh? Mai samjha nahi dad, of course she's my friend, I do like her!!
Karan: Not like that beta..As more than friend..?
Armaan: Buddy..No, I am not allowed to do that!!
Karan: you are not allowed to do that??
Armaan: yes..mai kisi aur sai pyaar karta hu..
Karan: WHAT??
Armaan: Ji dad..I really love her, wo mera bachpan ka pyaar hai aur Mai usai dhoka nahi dai sakta!!
Karan: wo hai kaun?!?
Armaan: Ridhu..dad, mai usai dhund kai rahu gaa..I won't marry anyone else.!!
Karan: Armaan, tu mera beta hai..I know terai dimaag mai kya chal raha hai..Ridhu jo bhi ho, you've seen her when she was young..par tujhe pata hai wo ab kaisi ho gi, wo dikhti kaisi hai..wo sochti kisai hai..usai tu yaad bhi hai kai nahi?? Armaan..Ridhima buhat achi larki hai aur mujhe pura yakeen hai wo tujhe puri zindagi khush rakhe gi..mujh sai zyaad to tu usai jaanta hai, mai tujhe 2 din ka waqt dai raha hu sochney kai liye kai tune Ridhima sai shaadi karni hai ya nahi? Aur mujhe umeed hai jawaab ha ho go..
(And he leaves the room leaving a confused Armaan behind..)
Armaan: Mujhe pura yakeen hai ki tum mujhe yaad karti ho gi Ridhu!! Par tum ho kaha..Ridhima buhat achi larki hai isi liye mai us sai shaadi kar kai apnai saath us ki bhi zindagi haraab nahi karna chahta..but Ridhu tum ho kaha?!? Mujhe sab sai pehle Ridhima sai baat karni pade gii, aur usai sab sach batana ho gaa..
(He takes out an old locket from his pocket in which 'AR' is written beautifully...he puts it near his heart and goes to bed..but sleep is miles away from his eyes)
(Whereas Karan talked to Armaan, here Padma talked to Ridhima..Ridhima while crying hardly inside, said yes as she could never hurt her parents and
After seeing there happiness..she didn't had any courage to deny..)
Ridhima: (while standing near the window looking at the moon) Aaj mujhe ehsaas hua kai mai tum sai beintehaa muhabbat karti hu Ammy..I love you very much but mai apni khushi kai liye apne mom-dad ko dukh nahi dai sakti..I can just wish 4 you ki tum jaha bhi ho..jaise bhi ho..hamsha khush raho..Par mai Armaan ko bhi dhoka nahi du gi, I would tell him about my first and last love..aur agar yai sab jaan nai kai baad bhi wo mujh sai shaadi karne kai liye tyaar hai to theek hai warna..I won't marry him..
Next day..
Armaan calls Ridhima..
Armaan: Hi Ridhima..
Ridhima: Armaan, hi..
Armaan: Ridhima, mujhe tum sai buhat zaroori baat karna hai..can we meet?
Ridhima: Actually mujhe bhi tum hai kuch batana hai..aaj shaam 7 theek rahe ga?
Armaan: Totally!! Meet you at 7 at sunshine garden..Bye..
Ridhima: theek hai..Bye!!
At 6:45...
Rihima: I don't know why but Armaan kai saath mujhe Ammy jaisi feel aati hai..like I can tell him anything..Maybe I have feelings for him?? No!! nahi..I can never love him, I only love Ammy..My Ammy!!
Everything aside..what to wear..Armaan will be here any minute!
Armaan: (in the car) pata nahi kyu..par mai jab bhi Ridhima kai saath hota hu, mujhe Ridhu yaad aati hai!!
Usi ki tara ghussa karna..over sensitive..mai khul kai baat kar sakta hu..Jo bhi ho, aaj usai sach batana hi hoga, but I don't wanna lose her..she is such a nice person..I wish usai duniya ki sab khushiya mile jo mai usai shayd kabhi nahi dai sakta!!
(Ridhima comes out of the house..and sees Armaan's car parked at the front..her heart beat starts to increase..)
Armaan's POV
Just when I saw towards the door..she came out, she was looking sooo beautiful..well, yai to mai jab bhi us sai milta hu..mai kehta hu, but what to do if she's beautiful!! She was wearing a simple white and purple shirt with skinny jeans..her hair left open adding to her beauty and high heels..with such a simple dressing..she was able to take my breath away..I broke my imagination when she called me..
Armaan's POV ends
Ridhima: Hi.
Armaan: (while opening the door from inside) Hey..come get in..
Ridhima: sorry thora late ho gai..
Armaan: Its okay..you're really looking beautiful!!
Ridhima: umm..Thanks (a slight blush is visible on her face but she is able to hide it)
The rest of the ride was quite..it seemed as if nobody had words..after a 15 minute ride..the car stopped in front of a garden..
Armaan: (getting out of the car and opening Ridhima's door..giving her hand to Ridhima)
Ridhima: (gladly accepting Armaan's hand) Thanks..
Armaan: My pleasure..
(They chose a place little away from all the people and noise..there was a bench near..while walking towards it, Ridhima spoke..)
Ridhima: Armaan..
Armaan: Ha..?
Ridhima: Us sai pehle kai tum mujhe kuch batao, I wanna tell you something..
Armaan: but..
Ridhima: Please Armaan..??
Armaan: okay..go on
Ridhima: (facing away from Armaan) Armaan..I love someone..Shaid tum hai yai buhat ajeeb lage but I love him from my childhood..we used to be best friends, us time to mujhe yai pata nahi that but now I've realized it kai mai us kai ilawa aur kisi sai itni mohabbat nahi kar sakti!! I don't know..wo kaha hai..wo kaisa hai par mujhe is umeed kai saath hi kai wo bhi mujhe itna hi miss karta ho ga..zindagi guzarna manzoor hai..Armaan..you are a wonderful person..jo bhi tumhara life partner ho ga..wo buhat khush naseeb hoga but I am sorry Armaan, I can never ever love you because mai bas aur bas APNE Ammy sai pyaar karti hu..aur agar tum itna kuch jaan nai kai baad bhi mujh sai shaadi karne kai lye tyaar ho..to mai naa nahi karu gi par mai tum hai wo pyaar bhi nahi dai sakungi jo koi biwi apne pati ko deti hai..
All this while Armaan was silently listening to her but when he listened to that one word "Ammy" his happiness knew no bounds..tears started to flow continuously from his eyes..he couldn't believe that all this time..it was her Ridhu..how could he not recognise her..how selfish it was of him that he couldn't take the hint that Ridhima and Ridhu are the same person..!! Here he had come to tell her that he loves someone else but he loved the same person, her Ridhu..
Here Armaan was unconditionally happy but Ridhima was surprised that Armaan had not utterd a single word..when she turned back..she was immediately taken in a big tight hug by Armaan..
Ridhima: Armaan..
Armaan: RIDHU!!! KAHA THI TUM AB TAK..HOW COULD YOU?? MAI NAI TUM HAI ITNA DHUNDA..HAR JAGA, HAR GALI..HAR MUHALLA..PAR TUM NAHI MILI..I WAS SO BROKEN!! TUM HAI PATA HAI, JAB MAI INDIA AYA MUJHE AUR KISI CHEEZ KI PARWA NAHI THI BUS MAIRAI DIMAAG MAI AIK CHEEZ THI..MERI RIDHU!! KYA WO MUJHE YAAD KARTI HO GI?? KYA WO BHI MUJH SAI MILNE KAI LIYE ITNI HI BAI KARAAR HO GI?? TUM THI..MERI RIDHU BHI MUJH SAI PYAAR KARTI HAI NAA?? I LOVE YOU RIDHU..I LOVE YOU SOOOO MUCH MY RIDHIMA!!
Ridhima: (after understanding the situation..she felt as if the ground was leaving her feet..) Aa..mm..ammyy??
Armaan: Haa..Ridhu tumhara Ammy!!
Ridhima: I-I Love You too..!! (And with that she starting crying and it seemed impossible to stop her..she said sooo many things between her sobs..taking out all the feelings she was hiding from years..So, Armaan let her be..he knew it was important to do so..spwith each and every tear, she was taking out the loneliness..the sadness she felt without Armaan..they stood hugging each oepther for 15 minutes but still Ridhima didn't stopped crying so Armaan started to make her stop crying)
Armaan: Ridhu!! Please stop..dard hota hai..rona bas karo, mujh sai pyaar karna itna bura nahi hai..seriously!!
Ridhima: (laughing between sobs..hots her playfully)
Armaan: Yai hui naa meri Ridhu wali baat..I am sorry..
Ridhima: Kyu?
Armaan: Tum hai chor kai chala gaya naa..
Ridhima: Haa..15 years buhat kam hotai hai..yai keh kar?!?
Armaan: hehe..sorry!!
Ridhima: Apology accepted..at least wapis to aa gaye naa..Armaan...
Armaan: hmm..while playing with her hairs
Ridhima: tum wapis mujhe chor kar to nahi jao gai naa..?
Armaan: (taking his face in his hands) Kabhi nahi..ab tum sai dur gaya to mai bhi mar jau..(Ridhima places her hand on his mouth..Armaan kisses her hand)
Ridhima: I love you..
Armaan: I love you too..
Armaan bends down on one leg and while placing his hand in front of hers..
Armaan: My dear Ridhu..I know maine tumhai zindagi mai buhat dukh diye hai..tumhai tanha chor kar chala gaya par mai tuhaari kasam kha kar kehta hu kai meri puri zindagi mai aik bhi aisa moka nahi jab maine tum hai miss na kia ho ya tumhaare barey mai socha na ho..Aur is bharosai aur yakeen kai saath kai mai tumhe zindagi bhar khush rakhu gaa aur aik aansoo bhi tumhari aankhon mai aane nahi duu gaa..Will you marry me?? Will you share your self with me??
Ridhima: Yes Armaan..I will marry you!! I can not be more happy by sharing my self with you..Tum nai mujhe dukh nahi diye balke tum to meray jeene ki waja ho!! Tumhaari har yaad nai mujhe zinda rehne ka maksad dia..I love you sooo much My Ammy!!!
(With that they both hug eachother once again with a hope of a beautiful new life ahead..where no body could separate eachother and where there is unconditional love..This is not the ending of a love story but it us a starting and then wo ShahRukh Khan ki line hai naa.."KAHAANI ABHI BAAKI HAI MERAY DOST!!)
Hey readerzz..!!
So the last part finished..I was really really glad that you liked the previous part nad I hope you'll like this one as well..
As you know this is my first attempt..so choti moti galti ko nazar andaaz kar dena..okay? :P
Do like & comment.. I will be really thankful :D
Luv you guyzz :)
Madiha..