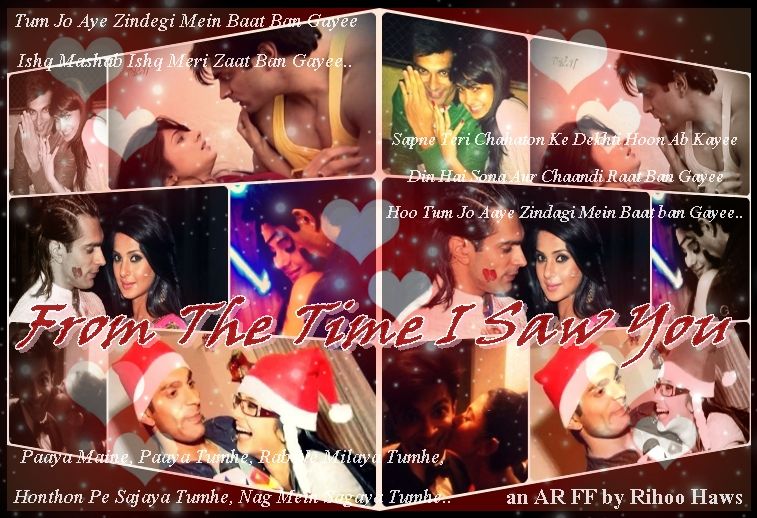 TWO DAYS LATER AFTER RIDDHIMA BIRTHDAY
Malliks and Gupta spend a day in Mallik farmhouse and they return the second day early morning before the traffic get busy... Armaan and Riddhima directly when to office asking Billy to take others house... Also Armaan gave off to Atul saying he needs to be with Anjali where else Muskaan and Rahul went to work...
Ananya ask Armaan and Riddhima to go home first before leaving to the office but Armaan deny saying he has to check some files before he meet to a client... Also Riddhima has to finished her incomplete design in three days as they had taken a day off from work to spend with their family, now time was running short...
So bidding bye to everyone, Armaan and Riddhima make their way to the office directly from farmhouse... Journey to the office was silent as Riddhima was still sleepy and trying not to fall asleep knowing that how she would be looking as she has to face so many people in the office...
Armaan keep talking about the presentation and Riddhima was just listening to him as her mind was too sleepy to understand and think what he was saying... As they started early morning, they reach office in 1hr and 10mins, Riddhima was glad that they were the first people to come and she has another 45mins work in peace...
As soon as they reach to the floor, they went to their respective cabins... Armaan knows once they started with their work, they wouldn't get time to eat... Also Armaan knows Ananya would be calling to ask if they had breakfast as they had only juice before leaving the house without a proper breakfast...
Not wanting to face any lecture from Ananya for not being responsible about the health, Armaan order breakfast for both, he was inform that food would be arrange for him in 20mins... Thanking, Armaan cut the call and look around to see Riddhima checking some papers as she tap pencil on her cheek as if she was in deep thought...
Armaan smile seeing how quickly Riddhima was lost in her work... Letting her work, Armaan search for his filed which was nicely kept one side of the huge table... Armaan was glad that presentation was ready and now he needs to just enter everything and do the last minute editing in the laptop...
So without waiting, Armaan also got busy with his work knowing he got another two hours before the presentation and more then 30mins before his PA come so he would know about his schedule for the day.. Armaan was very impress by the work done by his empolee's in his absent, he knows everyone is faithful in the office because they believe that Malliks are the best and they are lucky to work with them as Mallik never treat them as workers but as their second family...
20MINUTES LATER
Riddhima was lost in her work as soon as she started to check the paper which she has complete the design and incomplete... Riddhima was fighting with her sleep as she keeps staring at half complete design which she was holding... She was glad that she manage to complete one design in few minutes...
Now she was trying to complete the next one so she would start with another design... As Riddhima sit with her head down bending over the table, her elbow resting on the table, one hand in her open hair as it falls over her face hiding as she hold pencil in her other hand as it one point was inside her mouth as she was busy thinking what to do with the design to make it perfect with her magic imagination...
Riddhima was disturb after 20mins with knock, as she was so busy with her work she asked whoever it was to come inside not looking who has come at this time...
'Ma'am, breakfast...' one of the worker came inside holding a tray with breakfast arrange on it...
'Maine toh order nehi kiya...' Riddhima said aloud wondering who might send it...
'Maine order kiya hai...' Armaan said walking inside with a million dollar smile...
Riddhima smile seeing him and Armaan ask the worker to keep the tray on the table near the couch in Riddhima cabin and Riddhima came leaving her papers on the table as she was hungry to be asken to take her breakfast by anyone... When the worker left closing the door, Armaan turn around to see Riddhima coming towards him...
'Hungry wife...' Armaan asked pulling Riddhima in his arms...
'Bohot zyada...' Riddhima said making a puppy face to which Armaan kiss her cheeks making Riddhima smile...
Soon both was having their breakfast talking about the presentation which Armaan was going to present after 2hours... By the time they finished, employee has started to come as they could hear voices outside... Before leaving Riddhima cabin to let her complete the reminding design, Armaan make sure to steal a kiss before they get busy in their work for the rest of the day...
As soon as Armaan enter his cabin, he saw his PA waiting for him with a long list of meeting which is arrange for him for the day... Armaan wish he didn't take a day off but he knows it was worth to spend with his lovely wife and family as he knows the coming days would be very hectic if he get the project...
PRESENTATION
Everything was done by the time the clients come and Armaan was very happy with their presentation... They all were set to give their best and get the project today itself on their hands... Board members were already in the meeting room waiting for the clients to come as they talk in between each other while Armaan was checking the presentation before the client come...
Small smile was playing on his lips as Armaan remember the little moment he shared with Riddhima a while ago before he came to the meeting room as he didn't know how long this meeting would be taking... Armaan was on cloud nine when Riddhima bang in to his room to wish him all the best and Armaan knows she was the lucky charm and now no one can stop them for getting the project...
Forgetting where he was, Armaan was busy thinking how the kiss Riddhima gave him... Anyone who sees him would be thinking he was just too happy with the presentation but no one knows Armaan Mallik was busy dreaming about his wife and the moment their share...
'I wonder how you would be giving the presentation Mr.Mallik if you didn't realized the present of me entering the same room as u are...' Armaan trace was broke with the sudden voice...
Armaan look up from the laptop to see a young lady standing in front of him in a tight white shirt and short black skirt... Her hair was nicely tied in to bun with some hairs falling on either side as some fall on her forehead... Minimum make up with a bright red lipstick with long earrings... On right wrist an expensive wrist watch while a big one bangle on other left wrist, with black highheel shoe...
Armaan stood as he look at her face thinking how familiar that features look but he wasn't able to recognize who she was exactly... She must be same age of him or an year or two younger... Seeing Armaan expression, the girl gave a seduce smile to him understanding Armaan confused expression...
'Don't tell me you didn't recognized me Mr. Armaan Mallik...Once you were the super cool dude right...
Hi, I m Raina Gujaral...' she said forwarding for a handshake...
'Raina Gujaral as of RG...' Armaan asked shaking her hand to which she nods her head...
'Glad at least now u remember...' Raina said smiling...
'Of course...How can I every forget... Miss Queen of our university, u always wanted to built the biggest Fashion company... OMG RG, I didn't have a clue it was you...' Armaan said as he remember the old times...
'We can catch up later Armaan if u don't mind, others are waiting for the presentation to start...'Raina says looking around the other board members who was standing to welcome...
'Sure thing Ms. Gujaral...' Armaan said as they face others and Armaan gave a small intro of Raina to the board members before they start with the presentation...
Presentation start and it took an hour to cover up everything for Armaan... Raina and her team were very impress by their presentation and they took another hour or more to discuss about other terms related to the presentation and Armaan was having a positive feeling that they had successfully win the their heart...
'I m very impress Mr.Mallik... I must say, it would be pleasure to work with u and ur fellow team memebers...' Raina said as she look around everyone smiling...
'It would be an honor to work with u and ur memebers Ms.Gujaral...' Armaan said showing his dimple million dollar smile...
'So what are we waiting for... Lets sign the project and celebrate...
I m sure both companies are going to get a huge amount from this project when it gets complete...
Congratulation Mr.Mallik, this project is all yours...' Raina said as she forward Armaan the project file which she sign...
Armaan has no bond of happiness as he took the project file from Raina and go through the papers before signning it... They stood and handshake congratulating each other, everyone was happy that knowing how much profit they were going to get when this project complete...
They fixed second meeting to discuss about the project on the following day as Armaan dismiss everyone for lunch break... When everyone was out from the meeting room, Armaan turn to Raina who send her PA and other members asking to get back to work after lunch break...
When it was just only Armaan and Raina left in the meeting room, they both face each other with serious expression... But it didn't least long as they both brush out laughing and hugs...
'OMG, really AM... I don't believe it I m meeting u after ages...
I must say, u haven't change a bit...' Raina said as they break the hug...
'I wish I could say the same about u RG...' Armaan said with a naughty grin...
'I hope for the better I have changed...' Raina said...
'Of course... So how is everything else, of course other then work...' Armaan asked...
'Shall we continue while having lunch... Its time for a little celebration...' Raina said checking the time...
'Of course RG, oh I forgot that Riddhima must be waiting for me...' Armaan said as also check the time before making their way out from the meeting room...
'Riddhima???' Raina asked...
'Come, I will introduce... I m sure u would like her, hopefully...' Armaan said as his eyes twinkle...
'Seems someone really special AM...' Raina...
'Very much...' Armaan said...
Armaan and Raina enter Riddhima cabin to see Riddhima busy in her work... Feeling someone present, Riddhima look towards the door to see her handsome husband with a big smile on his face... Seeing Armaan smile, Riddhima understood he had won the project what wait for him to announce...
'We did it baby...' Armaan said moving towards her...
Riddhima lips break in to a big smile hearing those words and without thinking twice where they were, Riddhima throw her hands around her neck hugging him tight... Armaan hugs her hiding his face on her hair, inhaling her scent...
'Congrats Armaan...' Riddhima said moving out and kissing his cheek...
'Wouldn't have done without you Jaan...' Armaan said kissing her forehead...
Armaan and Riddhma moment was break when they heard a fake cough... Riddhima eyes got wide as Armaan got a grin on his face knowing it was just Raina... Both face towards Raina as Armaan put his arm around Riddhima waist pulling her closed to him... Riddhima wasn't comfortable but there arn't anyone out there who don't know the relation between Armaan and Riddhima...
'Meet her, she is RG as of Raina Gujaral and RG meet Riddhima, my wife...' Armaan said looking towards Riddhima who give her best smile to him...
'Nice to meet you Riddhima...' Raina said standing on the other side of Armaan...
'Same here Raina...' Riddhima said smiling...
'U know Riddhima, U r very lucky... Every girl dreams to marry a guy like Armaan and seems like Armaan has lost his heart to you only from the billion girls out there... And Armaan, I m very disappointed mahnn... Shaadi karli aur mujhe invite bhi nehi ki, was this our friendship...' Raina said as she hold Armaan free arm getting closed to him...
'After we left university, we lost contact Raina... How on earth I was going to find you in this world...
What if u couldn't make to our wedding, it would be our pleasure to invite u for dinner... Right Riddhima...' Armaan said looking Riddhima...
'Ofcourse Armaan... Raina, u can come over and meet others as well...
It would be our pleasure to arrange a dinner for u...' Riddhima said...
'Sure thing, anyways we have two reason to celebrate...
We met after ages and now we will be working together for the coming four months...
It would be my honor to spend times with AM and ur family...' Raina said...
'Cool then but if u ladies don't mind, can we go and have lunch somewhere... I m starving...'Armaan said...
'U guys carry on, I have work to do...' Riddhima said moving towards the table...
Before Riddhima could reach back to her chair, Armaan pull her back with him and out from the cabin knowing Riddhima always skip meals due to the work...
'Not a chance Wify, u r coming with us... U know RG, she is workholic more then me... Can u believe it, I agree she is the best for our company but u tell me... Is it good to work so hard without caring about health... No na, and Riddhima whats wrong with you... U don't need to do any kind of diet, u r the gorgeous girl in the world...' Armaan said as they move out from the almost empty office building as Raina move behind them smiling to the couple in front of her...
Armaan took the ladies to the near by restaurant, Armaan was talking none stop as Raina keep up with him as they talk about their university days... Riddhima also joins them every then and now but as they talk about their days in unversity, she was left out as she wasn't in the picture that time... Raina tell Riddhima about every pranks Armaan play on professors and student...
They left to their respective work place, when Raina got a call reminding she has a meeting schedule in an hour... So bidding good bye and telling she would be meeting them at night for dinner, Raina left... Armaan pay the bill and left with Riddhima ask he also have a meeting with some other client... Armaan was talking about Raina none stop till they go back to their work...
EVENING IN MALLIK MANSION
Billy and Nikki were sitting in Hall watching some latest movie while Ananya was in their room sorting out some cloths that she wants to give to charity... She had been asking Nikki to get cloths which she didn't wear so they would give it away to use for those childrens who are in need of cloths and other accessories...
Ananya love to help those children so she make sure that they have everything they need without any difficult... While everyone was busy in their own work, Armaan and Riddhima came after a hectic day... It was very unsual for them to come early but seeing both in home by 5pm, everyone was wondering what happen...
Hearing noises, Ananya also came outside to see what was happening only to see Billy and Nikki hugging Armaan while Nikki did a little dance around with happiness... Riddhima was sitting admiring the family bonding while she massage her temple and look very tired...
'Yeh sab kiya ho raha hai...' Ananya asked as a servant came with water for Armaan and Riddhima...
'Mom... I got the project... Kal se hum uspe kaam karna shuru karenge...' Armaan said coming and hugging Ananya...
'Congratulation Son... Means tum aur bhi busy hone wale ho...' Ananya said...
'Sirf Armaan nehi, humhari yeh bacchi bhi...' Billy said sitting next to Riddhima putting his arm around her shoulder who was sipping water...
'Dad, once Armaan and Raina finalized the theme of costumes, then only my work will started...
Waise bhi I had to finish the going on project work by tomorrow... Just two three design to make and it would be complete..' Riddhima said...
'Bhabs, then how come u both came so early today... Kal deadline hain toh I m sure u wouldn't leave the office so early..' Nikki said..
'Actually Niks, aaj Raina humhe dinner pe join karne wali hai...
Raina Gujaral, whom with we are doing this new project and guess what Dad... She is the same girl with whom I study in university... Whom I used to call RG, remember Mom...' Armaan said excitedly...
'Yeah I remember the name but uski chehra yaad nehi aa rahi...' Billy said...
'Woh aaj dekh ke yaad karlena Billy... Aur tum dono pehle inform nehi kar sakte... Main abhi se khane ki inthizaam karti hoon...' Ananya said...
'I m coming Mom, let me change...' Riddhima said...
'Nehi Riddhima, tum jaakar araam karo... Nikki will help me...' Ananya said..
'Its okey Mom... Waise bhi Armaan ka friend hai toh aaj khana main banaungi...' Riddhima said as she collect her bag and going towards her room...
Billy and Armaan sit discussing about the new project while Nikki went back to her movie... Ananya move to the kitchen to check what they got so she can sent servant to get some vegetable and other necessary things which Riddhima would be needing to make dinner...
Ananya wait for Riddhima not knowing what she wants to make for Armaan friend... After ten minutes, Riddhima came changing to a salwar as she put her hair into a messy bun, all ready to make the dinner for the guest...
Once Riddhima took over the kitchen, Ananya was force to leave it while Riddhima took care of the dinner by her own with the help of two other servant... Riddhima was ordering them around while she make the dinner as somehow she felt that Armaan was friend were trying to get too close to him but Armaan being crazy for Riddhima, Riddhima knows he didn't give much attention to her like always he do with other girls around him drooling over him while his mind and heart was occupied by only one person...
DINNER TIME
Everyone was ready and waiting for the guest to arrived, Riddhima was in her room getting ready and taking all the time she wants...Everything was ready for the dinner, table was set with different dishes niecely arrange in order... On exact time Armaan has tell Raina, she was at their doorstep with some gifts for everyone as she was meeting them first time...
Armaan happily introduce Raina to Billy, Ananya and Nikki... They sit waiting for Riddhima who had gone to get ready... After five minutes, Armaan excuse himself saying he would go and check on Riddhima as she was taking so much time...
Nikki tease Armaan who make his way towards his room and hit Nikki on back of her head as he gave a 'shut up' look as he make his way to check on his wife... Billy and Ananya laugh seeing Armaan expression while Raina smile seeing her friend being very happily married to love of his life...
Armaan shake his head thinking how naughty and shameless Nikki could get sometimes as he enter the room to stop on his track seeing the beauty in front of him... Armaan stood with the help of door frame as his mind blow off by his dearest wife who didn't leave a chance to make him fall in love all over again and again...
Riddhima who was busy trying to tie her blouse string as she was having difficult to reach it... Her blouse was holding with one string and other string was undone as Riddhima struggle to tied it as her hand wasn't reaching it... Riddhima was wearing a beautiful peacock color saree and she was breath taking as she left her hair open but was move to one side leaving her bare back as she was busy trying to tie the string...
Armaan eyes move on Riddhima face as Riddhima was facing towards the mirror... She has put eyeliner in her beautiful big eyes and lipgloss in her rosy lips... Frown was adoring on her face as she was not able to tie her blouse string, she stood with her eyes closed and cute pout on her lips...
Armaan smile seeing her expression and seeing how she was getting irritate by every second when she was not able to tie the string... Armaan slowly move towards her, taking charge to tied the string for her... Feeling Armaan fingers brushing on her bare back, Riddhima eyes snap open as she look in front of her in the mirror to see Armaan look at her as their eyes met...
Armaan saw Riddhima cheeks color change like always whenever she feels Armaan so closed to her... Without breaking the eye lock, Armaan tied the string and when he was done, he bend down kissing Riddhima shoulder and moving to her bare neck as Riddhima has put her hair on one side of her shoulder leaving the other reveal...
Riddhima close her eyes as shiver run down in her spine feeling Armaan lips on her skin... Armaan one hand sneak around Riddhima waist pulling her to him with her back touching Armaan chest... Armaan nuzzle on her hair inhaling her scent as he lost himself to her...
On the other side, Riddhima was also losing herself to Armaan feeling him so closed to him... Somewhere back in her mind, she was trying to control her feelings as she remember his friend would be coming for dinner and they can afford to get late as she was already late...
Will their mind ever listen to them when they are so closed to each other??? Those words were slowly faded from Riddihma mind as Armaan hold her in his arm... Sensually moving his fingers around her waist making her go weak by knee... Armaan start to place kisses on her neckline forgetting that he came there to check on Riddhima if she was ready or not...
Like always, when his eyes laid on Riddhima Armaan has forgetten the world around him... He was so eager to take his beautiful and hot wife in his arms, he forgot that his friend and their guest was waiting for them downstairs with their family...
Not getting enough of Riddhima, Armaan turn her around smashing his lips on her tempting rosy soft ones... Riddhima was shocked with Armaan sudden action but soon give in as she miss those lips on hers... Riddhima hands move on Armaan hair as she got hold of his hair in her fist while she massage his nape with her other hand...
Armaan hands were sensually moving on her bare back and waist as both keep pulling each other close as much as possible as they deep the kiss... They kiss with pleasure of feeling each other so closed and broke when they were out of air...
Armaan move his face on her neck moving her hair on her back giving him more access... Riddhima moan feeling Armaan getting wild with her in passing every minute and hearing Riddhima moan…
Riddhima move Armaan face away from her by holding his back hair in her fist as both breath heavily due to lack of air and the proximity... Riddhima face has turn to crimson when she realized what they were doing and what other must be thinking as they had take too much time...
Armaan frown seeing Riddhima breaking his moment with her, Riddhima peck his lips before moving out from him hold to fixed her make up and saree before leaving the room... No change came to the color on her face as she couldn't help but think how they always lose themselve in each other any moment they get...
Riddhima look at the mirror to see Armaan reflection as he still stood with a frown on his face for breaking his romance... Riddhima giggle and Armaan turn around to leave without saying anything but was stop by Riddhima who hold his wrist...
'Aise jaenge toh sab mazak udaenge...' Riddhima said moving close to him...
Armaan gave Riddhima a 'what do you mean by that' look as Riddhima move her hand up to his lips, wiping the corner of his lips as lip-gloss was on his face now... Armaan smile looking at Riddhima ever so lovingly as Riddhima was busy wipping the lip gloss...
'Done, Ab jao... Main aati hoon...' Riddhima said...
'Nehi, main tumhari saat jaunga...' Armaan said as Riddhima move back to the mirror...
'Armaan, I know Raina aagayi hai... Please tum jaakhe uske paas beito... It would be awkward for her sitting there without u around...' Riddhima said as she fixed her blouse and saree..
'I know but I want to be my wify...' Armaan said hugging her from behind...
'Tum nehi maanongi na..' Riddhima said giving a small touch to her ruin make up, thanks to Armaan and his desire...
Armaan shake his head as he kiss Riddhima cheek making her blush... Riddhima roll her eyes as she try to hide her smile and then when she was done, she pull Armaan with her as Armaan try to steal a kiss before they leave the room and was demanding for what as if he hasn't get one from god knows how many hours or day...
By the time Armaan and Riddhima came down, Nikki and Raina wasn't anywhere to be seen while Billy and Ananya remain in the hall talking to each other about random stuff... Seeing Armaan and Riddhima coming and Riddhima looking beautiful as usual, Billy compliment her and Ananya just move hugging and kissing her forehead...
'Niks aur RG kaha hai...' Armaan asked...
'Nikki took her to show her around...' Billy said...
'Armaan, u shouldn't have go like that... Usko yaha bhulake tum Riddhima koh bhulane gaye usse yaha humhare paas chodke... Accha huva Niks ti nehi toh use kitna awkward lagti...' Ananya said...
'Sorry Mom, woh ek call aaya issiliyeh der hogaya...' Armaan make an excuse seeing Ananya very not happy face...
'Phone aaya ta ya kuch aur baat hai Bhai...' Nikki ask coming with Raina...
Armaan glare and Nikki while Riddhima blush hearing Nikki comment... Riddhima excuse, moving towards the dinning area to which Nikki laugh seeing Riddhima cheeks color changing...
'I must say Uncle Aunty, u have a wonderful house... This place is so nice and welcoming, it surely like a real home...' Raina said looking them and back to Armaan...
'Beta, u r always welcome to come here any time u want...' Ananya said...
'Yeah, after all u r a good friend of Armaan and now u both are going to be working together... So u can come anytime and work here with Armaan...' Billy said...
'Thank you so much Uncle... I m sure we can use Armaan office cabin for work but I would be happy to come and spend sometimes with u all without taking work with us right AM...' Raina said..
'Yeah RG, I m sure u would love to have meals with us sometimes if u taste the food tonight...'Armaan said...
'If its worth to leave hotel foods for home made foods, then it would be my pleasure...' Raina said...
'So what are we waiting for, lets go and have dinner... Raina, u can decide if u will prefer hotel food or homemade food after the dinner...' Nikki said as Billy and Ananya move to the dinning area...
'Of course...' Raina said as Armaan lead her to the dinning area where Riddhima was waiting for them...
When everyone settle, Ananya and Riddhima started to serve and join them soon... Everyone wait for Raiina expression when she started to eat and Raina was in love with the food, she keeps praising thinking it was Ananya who cook the food but when Ananya tell her it was Riddhima, she was like they were joking...
'Sach main Raina, Bhabs is a brilliant cook...
Hum sabka reaction bhi aisa ta jab Bhabs ne pehli baar khana banaya...' Nikki said happily...
'Haan, Riddhima beti is the best... She is very responsible when it comes to house work and office work as well... She manage everything so well, that she never give me chance to complain...'Ananya said...
'We are very lucky to have Riddhima as our daughter in law... She is like a daughter for us, just like Nikki...' Billy said...
'Thats so nice... Riddhima, indeed u r very lucky to have a family like Malliks who take u as a daughter...' Raina said...
'Not only her RG, even I m the luckiest person to have her as my wife... World best wife...' Armaan said looking at Riddhima and winking at her when she look towards him hearing his speaking for the first time after Raina started to praise her food...
Dinner went smoothly, everyone talking freely while Raina and Armaan keep telling everyone about their university days which was nothing new to Riddhima as she had heard them talking at lunch... When they finished the dinner, Riddhima got ice cream for everyone as they settle down in the hall...
Nikki left after a while when she got a call from Abhi while Riddhima was busy winding up the work in kitchen... Others were soon busy talking about the up coming project, Armaan and Raina were very excited to work with each other as Armaan show her some design sample by Riddhima who was unknown that Armaan had taken from her previous work...
LATER AT NIGHT
When Raina left, Armaan and Riddhima sit with Ananya and Billy for sometimes as they watch some movies... Nikki also joins them but when it was around 11 30pm, Ananya asked Armaan and Riddhima to go ahead and sleep as they have work the following day...
Armaan was happy that now he could spend sometimes with Riddhima but didn't show it from his face knowing Nikki were looking towards him with a naughty grin... Riddhima was too tired to see any of expression sharing in between Armaan and Nikki, she move to the room wishing everyone goodnight...
As soon as they enter the room, Armaan lock the door and got hold of Riddhima who was moving to the warbrobe to get cloths for them... Riddhima was too tired to say anything or struggle away from Armaan, gave herself easily to him without saying anything...
'I will help u wify...' Armaan said caring Riddhima body sensually moving his hand on her perfect figure...
'Armaan, I m very tired... Please koi shararat mat karo...' Riddhima said resting her head on Armaan shoulder...
'Issiliyeh toh main tumhe help offer ki...' Armaan said removing her earrings as she didn't wear any jewelry other then that...
Riddhima close her eyes knowing no use of telling Armaan to stop as he always knows how to get and make her give what he want... Seeing Riddhima action, Armaan understood that Riddhima wouldn't stop him... So not waiting, Armaan unpin her pallu letting it fall from her shoulder..
Riddhima gap when Armaan move his hand over her upper chest, as her blouse got a deep neck Armaan finger brush over her skin making Riddhima shiver under his touch... Riddhima turn around, hiding herself in Armaan arms, Armaan smile seeing Ridddhima action but he didn't stop what he was doing …
Armaan hide his face on Riddhima hair leaving kisses on her neck and chest as he hands move on her back... Riddhima hands move on Armaan body, pulling her close to her….
Armaan seal her lips as he carry her to the bed and removing rest of his cloth, soon he was on bed with Riddhima as both explore each other... Riddhima feel her tiredness vanished feeling Armaan each kiss on her skin... Armaan pure love always make her feel bless and she just can't stop herself from giving up for his desire...
Hellooo Friendsss and Readersss...
Yeyyy, before this year end I update this FF hahaha
I know I know it been days without an update of this FF...
Hope u all will enjoy this update...
Love u all, take care...
This part is dedicated to Aayushi ... My AAYOOO
@Aayushi uff AAYOOO
Wish u a very very happy birthday...
May Allah bless u and give u all the happiness, love and success...
muwaahhh Love u alot and enjoy ur day to the fullest...
Take care...