21th was my mom's birthdayI so wanted to post it that dayBut due to exams i can't
So here goes the story ……….
Yeh dharavahik ek kalpanik katha ha, is kahani ke sabhi patra evam ghatnaye kalpanik hai, Aur Isska udeeshya kissi bhi dhaarmik bhawnaon ko thes pahunchana ya ritee rivajon ka uphaas karna nahin hain, yaadi inka kisi vyakti ya vastu se koi sambhad hota hai to usse matra ek sanyog kaha jaye ga.Iske liye authority ya ni ki writer ya ni ki main uske liye jimiddar nhi hu…Kripa karke sare galtiyaan maafi ki nazar se dekh lijiye…
Shukriya
Precap:
Ghar agayi apne
Dikhake rangin sapne
Yadoon ki rahe me muskurat layi
Pyar ki nayi barsaat layi..
Kuch purani mystry…
Jamai-sasuma ki chemistry
Biwi ki darr
Yehi leke bandhi hai ek nayi kahani ka ghar…
Dikhna hai age kya hoga…
Meri taraf mat dekho pado apne ap hi pata chal jayega…………:p
Part 8
The voice again said: arey bhai kya hua mere ate hi sab chup kyun ho gaye batao to…kiski dhuk k bare me baat ho rhi hai…..
Riddhima:mumma aisa kuch nhi hai…hum to bas generally bate kar rahe the..(Like always riddhima saved him…. ..)
Padma:Acha to generally hi baat kar rahe the to mujhe batane me kya problem… huh(suspiciously)
Riddhima:Mumma ap bhi na kya problem hogi…koi problem nhi hai..par yeh sab bate chodo ap batao where is emimi?(asked suddenly getting excited)
Minnie(joining with her):yea mumma where is orry????
Padma(laughing at their sudden excitement): wo laila use lekar bahar garden me gayi hai..
Riddhima and Minnie excitedly got up and run towards garden making all laugh....
At garden....
A girl standing with lots of clothes at her hand..
Two voice comes from behind: emimi/orry
The girl wearing peach grin sari in desi style was having clothes on hand peep from behind the clothes and said (getting excited):badi didi aur choti didi ap dono kab aye????
Badi didi(smiling at her):laila kaise hai tu????
Laila (smiling fully towards them): main to thik hoon didi ap batao kaise ho????(By now she keep the clothes on a nearby chair and comes near them both badi didi and choti didi hug her tightly)
Badi didi:hum dono bhi thik hai acha tune emimi ko leke garden pe ayi thi na wo kaha hai????
Choti didi(asked impatiently):ha batao na mrs majnu orry kaha hai????
Laila:Wo to....(before she continue choti didi cut her in between)
Choti didi:wo to kya????
Badi didi(scolding other one):minnie let her complete
Minnie:jiji to use bolne ko bolo na(saying impetuously)
Well everyone this two was minnie n riddhima and laila is another maid at their house whom they treat as like a family member. She called riddhima as badi didi and minnie as choti didi..and minnie aise to she called her didi as she is older than her but whenever she is not around elders she call her as mrs majnu coz of her name is Laila but in reality uski shadi nhi hui ab tak...
Riddhima (scolding Minnie then turning to Laila): tu use bolne degi tab bolegi na laila tu bata????
Laila (smiling at the sister due then pointing towards a hut):wo waha hai..
Both of them go towards that & Laila follow them…
A hut…
Open in every side standing on its stands only and roof is made with ruff grasses..
& a part of tree was inside the hut…
There is siting a scarlet macaw…
Riddhima & Minnie enter & said together: Emimi/Orry
So everyone lets meet another very important person…opps not person it's a bird…
It's a scarlet macaw.
It is brought to them by shashank.
At the first sight of it riddhima named her emimi…
But Minnie wanted to name it orry…
So solution comes as riddhima called it emimi & Minnie called it orry…
Is bird ki kuch khasiyat hai…
Like it can talk..but most of it's talks are Hindi films dialogue or Hindi songs or Hindi films name…
It can sing but only Bollywood songs…:p
So shashank called it bolly mia...
& Padma called it panchi…
As she wanted to prove to shashank that it's a girl bird
Coz when they brought it there a huge part of fight between them over this namkaran of bird..
Yes u read it right namkaran of bird….
As I say to u all before that is ghar me har ek insaan apne ap me hi pieces hai to inka style bhi alag si hai…
Log pets k liye party rakhte hai aur yeh pujha rakhi thi who bhi namkaran ki…
& the suggestion of namkaran idea comes from none other than shanti's mind
& as says wives are always right so at the end namkaran puja me they kept its name as panchi…
But though its namkaran done everyone just call it as they want..like..
Shashank calls it bolly mia..(not in front of Padma,coz Padma k samne to he only calls it panchi as wife's wish always comes first….:p)
Padma calls it panchi
Nani calls it multimedia(as isme nam aur kaam ki itni varaities hai isliye…;):p)
Riddhima calls it emimi
Minnie calls it orry
Saran calls it coco(only when he is alone with it otherwise do like the other servants)
Baki k servants calls it though jiske samne hote hai uske hisab se…(like shashank k samne bolly mia,padma k samne panchi)
Well this bird is one of the most important one in this house as u all can figure that….
Is bird k liye sabki expression is like…
In my style………
Bhatke panchhi
Bhatke panchhi
Bhool na jaanaa,
Ye jag teraa nahin
Thikaanaaaaaaaaa
Before I continue further u might be thought what I'll call her well itni sari naam se to bula nhi sakti aur can't even any of them coz that will be injustice for another one..so I'm goanna wrote it's dialogue in tweety….;p
Now back to story again…
As they both shout…
Tweety got scared & fly & sit on the nearby chair's stand…
But as soon as it realized it's them...
It fly & comes near them & seat on the previous stand again.
Tweety(singing): Aayeeye aapka intazaar tha…..
Der lagi aane mein tumako…..
Shukrr hain phir bhi aaye toh…..
Aas ne dil ka saath na chhoda…
Waise hum ghabaraayen toh…[Song from film Vijaypath]
Riddhima(almost hugging):Oh….emimi…pata hai I missed u a lot…
Minnie(as tweety is siting above so she can't hold it so she just hug riddhima though her waist):Aur maine bhi
Tweety: Tere Siwa, Kuch Yaad Nahin
Tere Siwa, Koi Baat Nahin[Song from film Mast]
Minnie & riddhima laughed out hearing tweety sing..
Riddhima:Don't worry emimi ab sab yaad a jayegi ab hum jo a gaye…
Then both Minnie & riddhima again hugged it lightly & said together:We love u
Tweety: Tumko To Aana Hi Tha Zindagi Mein
Der Hui Aane Mein Kyun
Jeena Mujhe Hai Bas Tere Liye
Jo Bhi Karun Its Only For You
Because I Love You
I Love You
Because I Love You
I Love You Till The End Yeahhh [Song from film Jai ho]
They again laughed at its singing & took it with them inside…
@ Heaven hill....
As we see there is a balcony attached with living room where sofa kept& near the swimming pool outside like this…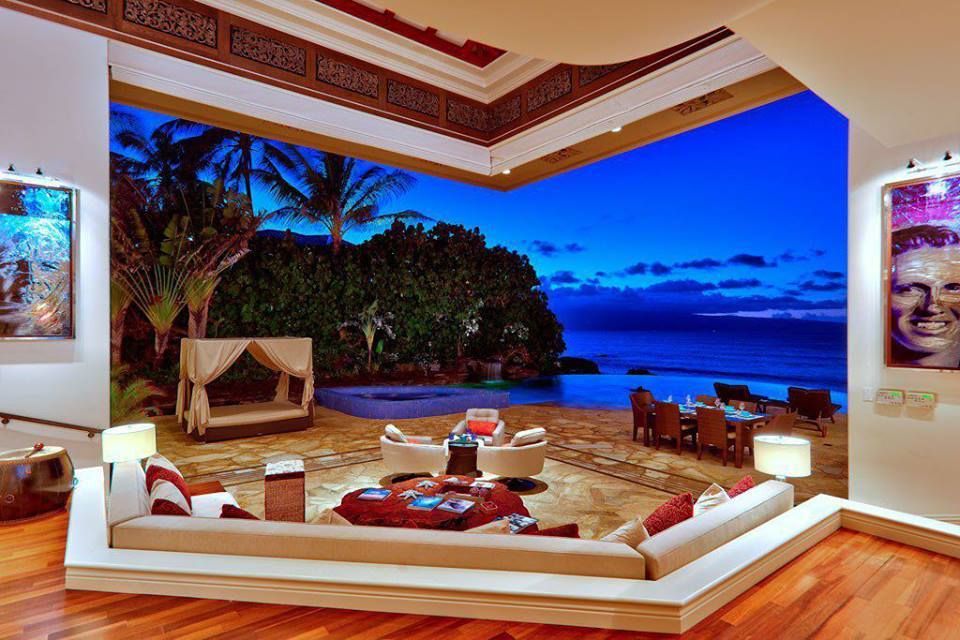 A guy wearing Acid green t shirt & Air Force blue trouser placing here & there in front of the sofa when he turns scene shows its none other than Atul.She saw a girl wearing Atomic tangerine color kurta where Antique white color floral design done on Antique white color leggings comes there when atul called for her.
Atul(tensed pacing here and there):Muski,Wo agaya kya????
Muski(placing an hand on his shoulder):Ha rahul gaye hai lane....
Atul(taking sigh of relief):ha ek bar wo ajay tab meri anjali phirse meri ho jayegi
Muski(hearing his word in frustration ):Abey oy chup chup....tujhe pata hai yehi baat tu last do din me karib doso bar bol chuka hai....ab ek bar aur yehi baat bolke chidai na to dekhna aj mere hat se kuch aisa ho jayegi jiske liye babaji mujhe kabhi maf nhi karegi(while saying babaji she with hand palms touch each hand like prayer & watching at sky sent silent prayer)....(then again turning in her sherni mood started scolding him)aur yeh kya laga rakhi hai 'meri anjali phirse meri ho jayegi'?...anjali kya kisi aur se shadi kar liya jo kisi aur ki ho gayi aur ab phir se teri ho jayegi....kuch bhi bolta rehta hai....
Atul(as usual didn't hear full anjali k shadi sunke hi his head start spinning and with an afraid expression shouted):Nhiiiiii
Muski(hiding her ear with her hand then frustrated looked at him): Ab kya hua tujhe phir se kyun chillai...?
Atul(afraidly):Nhi meri anjali ki shadi nhi ho sakti wo to meri biwi hai na
Muski(frustatedly looking at sky while with hands asking as if Y whisper):Babaji maine kya galti ki thi jo apne mujhe is gadhe k sath yaha phasa dia..(then holding atul's shoulder shaking)oy chup chup ek dam chup yeh kya bole ja raha hai obviously wo teri hi biwi hai aur usko shadi nhi ho rhi hai aur ab chup ek word bhi nhi....(then whispering to herself)pata nhi anjali kaise jhel te hai ise...ek bar bhi puri tarah baat nhi sunte
Atul(who got happy hearing that it's not anji's wedding said):To phir tu kya keh rhi thi?
Muski(looking at him then folding her hands that to towards him):Dekh mere bhai maine kuch nhi bola aur ab tu aur mat paka..ek to itna bada panga kar liya upar se ab yeh ulti sidhi bate kar raha hai..
Hearing him atul low his head & got quite..
After 10 minutes….
Atul(shaking muski from shoulder said):Sun na muski…muski oh muski sun na…
Muski who was having headphones at her ear put it down & said:Ha bol…kya hai?
Atul(Smiling towards her said):Tu ek bar call karna Rahul ko puch na wo kaha hai?
Muski(knowing y he is saying it again & again):Kyun tera phone kharab ho gaya kya(atul shake head negatively)Phir tu kar na..mujhe kyun bol raha hai?
Atul(innocently as if it's not his fault at all):Wo maine last time use call ki thi to usne mujhe dant dia bola that if I call again to wo unke leke nhi ayega…tu puch na(handling the cordless towards muskaan)
Muski(thinking):Par tuje wo aise kyun bola…(then thinking something)Ek baat bata(looking suspiciously towards him)Tune kitne ball call ki use abhi tak…
Atul(stressing at his head):Mujhe yaad nhi hai…
Muski(looking more suspiciously):Tune call mobile se ki thi???????
Atul nodded his head while muskaan forward her hand for his mobile he give it to her. She instantly check the caller list & the next second bomb blast on him……..
Muski(with clenching teeth):Tune pichle do ghanto me Rahul ko karib 100 bar call ki aur usne har bar utha kar tujhse baat kia..tu abhi bhi expect karti hai who tujhe pyar se baat kare…pata hai usne toh teri call uthai mai hoti toh ab tak tera sar phod deta…kya laga rakha hai a rahe hai na dono to ane dena use…ek toh khud gadbad karti hai ab upar se yeh saab shuru kardi bechare ko saans to lene deta yaar…
Atul(looking suspiciously at her):Rahul kabse tere liye bechara hone laga huh…
Muski(fuming):tu jaisa hal kia sab ko ab bechara hi lagega…
Before atul could say anything a voice stopped all their talk.
Voice:Ab kya kia isne……..
Bg music played….
kya karein kya na karein ye kaisi mushkil hay[Scene shows Atul & muskaan turned around & they got shocked. Coz they never expected this person to come too fast. They looked towards each other than back towards the person]
koi to bata de iska hal o mere bhai[Scene shows they again look towards each other thinking what to say now.]
Music end…
As the person is little far Atul whisper to muski:Tune ise bata diye.
Muski(Whispering back):Abe oy main kyun batane lagi meri dimag kharab hai kya..
Atul(thinking while saying):to yeh itni jaldi aya kaise yaha…ise kisi ne to kuch kahi hogi warna yeh itni jaldi yaha kaise pohch gayi iski ane me toh aur kuch din lagne wala tha na…waise acha hi hua agaya yeh ab meri help karegi..
Muski(whispering):Abe tujhe kya lagta hai sab kuch janne k baad yeh teri help karegi ya dhulai…(look at him while raising one eye-brow)
Atul imagine the person holding his collar shaking him..& he is shouting:nhi chod do mujhe…
& when in reality he actually shouted saying the same
Muskaan who was standing next to atul hide her ear with hands
& the person also do the same..
Muski(shouting this time):Abe oy chup
Person:oy tu aise kyun chilla raha hai main koi voot hoon kya?ya pehli baar dekh raha hai mujhe?
Muski(go towards him & give n friendly hug to him): tu itni jaldi kaise a gaya tujhe to kuch din aur rukna tha na
Person(suspiciously):oy itne din baad aya hoon kaha tum sab mujhe sawagat karne k liye ready honi chahiye par yaha toh lag raha hai baat kuch aur hi hai mere tashrif lana tum sab ko jayada vhaye nhi…Come on spill the bean is bar tune kya kia(turning to atul)
Atul(To hide his fear go & Hug the person tightly while saying):Mere bhai mere yaar kitni din baad dekha tujhe tu kaisa hai mera yaar..
Person(detangling from him):Abe chor mujhe(then coughing as atul in excitement hold the person really tightly)Ab to pakka kuch gadbad hai bata kya baat hai…
Muski(standing in atul's side nervously said):Are aisa kuch bhi nhi hai…tu itne din baad aya chal fresh ho ja main teri khane ka intejaam karti hoon…
Person(looking at clock):muski tu is waqt yaha kya kar rhi hai…Aur tu(turning towards atul)tujhe to is waqt office me hona chahiye tha tu yaha kya kar raha hai……?
Muski not knowing what to say look at atul right that time her phones ring & saying that it's important she excuse herself & in meanwhile atul was getting really nervous that in ac room he was sweating. The person notice it then stand in front of atul with folded hands on chest looks at him intensely while raising one brow up.
Atul (laughing like idiot):Kaha se a raha hai tu…
The person raise one eye brow up & look at him atul started to stammering
Atul(confusing in his own talks & at the end started stammering):Mera kehne ka matlab tha tu jaha se aya waha weather kaisa hai nhi matlab waha se a kyun gaya tu nhi mere matlab matlab matlab….
Person(raise one hand & stop him): Ab tu bolega tune phirse kya kia ya mujhe dusri rasta apnana padegi to know what u did…
Here muskaan actually got rahul's call
Rahul:oy tu itna der kyun kardi phone uthane me
Muski:Oy chup kar ja phite muh bada aya mujhe dantne wala tu pehle bata phone kyun kia wo agaya ya nhi
Rahul:yaha kuch problem ho gayi wohi batane to phone kia..(Then he said something about the person who was gonna come)
Muski:oh teri yeh to syappa ho gaya yaha pe bhi..(Then she also told about the person came at home few while ago then said) Ab kya kare?
Rahul(thinking about something):Tu ek kam kar jo bhi hogaya so hogaya tu use jake sab bol de
Muski(getting furious):Abe oy main kyun bolu…Mujhe nhi kehna a bel mujhe mar tujhe itna shoukh chadi hai to tu hi ja aur bol de sab use…tujhe pata hai na kuch din pehle hi kya hua tha uski jane se pehle usne sab tackle Karli thi but end me kaise padi atul k upar wo Anjali se boht pyar karta hai agar isbaar pata chala humne bhi iski madad karte waqt kya kya kia to pata nhi kya karegi yeh….na baba na mujhe nhi kehna kuch bhi
Rahul(mocking at her): Oy hum mat bol sare gadbad tune ki thi…meri achi khasi plan ki sattyanash kardi thi tune…..Aur mere samne to badi sherni banti ghumti hai har waqt ab kya hua…sari sahas ki tai tai phisss….
Muski(getting angry):Oy dekh Rahul mera dimag mat kharab kar main pehle se bol rhi hoon…agar phirse kuch aisa waisa bola na toh main mobile k andar ghus kar teri sar phod dungi bata rahi hoon pehle se phir mat kehna warn nhi ki
Rahul(again said mockingly):Oy chal ja badi ayi mobile me gusne wali khudko ayne me dekhi kabhi,bhais lagti hai puri ki puri
Muski(getting more angry at his talk):Tu tu ruk a mere samne phir dekhna main kya karti hoon…
Rahul:ja ja badi dekhi teri tarah mujhe pata hai tu kuch bhi nhi kar payegi
Muski(getting more irritated by now):Tu na tujhse to mujhe koi baat hi nhi karni..
Rahul:ha to karti kyun hai kisne bola tujhe karne ko(before he complete the sentence muski cut the line) baat….
Here at the balcony…..
Person(looking at atul draggingly): So tu bata raha hai ya…..
Atul(trying his lack for the last time): Mera vai shant ho ja pehle…..(then taking the person arm drag that person towards the sofa & make him seat there)tu beith yaha(he make him sit forcefully but the guy stand so he again make him sit but the guy stand again like this 3 time happens when the person finally spoke)
Person(getting irritated):Abe oy chod mujhe(then keeping himself out of his grip said again while pointing towards atul)agar abhi tu nhi batai na….
Then atul said to him: but armaan
Yes guys this guy is none other than armaan mallik.
Atul's brother cum frnd so now u see atul's surname also mallik. Actually he is not armaan's real brother he is adopted by armaan's parents.
Atul was with armaan from their childhood they lived together always like an inseparable part but in an accident atul's full family died & atul got too much alone that time armaan was the only one person who support atul from the core…armaan even convinced both atul & his parents to adopt atul.
1stly atul refused armaan with armaan daily nagging & that time atul really need help when at end atul need to shift orphanage & that moment armaan almost forced atul to agree then at the end armaan's parents adopt him as their son.
Though armaan & atul's relation is like more than brother, kind of parents-child relation.
Coz every time atul did something stupid armaan cover that up & that time atul became like a kid to armaan who did mistake and armaan like a mother to mend that up
& when armaan did something stupid atul cover that up kind like a dad figure. Their relation is a thing to adore most in this house.
About their bond mere style me kahu to they are like………
Kabbhi armaan gusse hue to who muh fulake beith jaye to atul be the sensible one says like……….
Chal mere bhai,
chal chal mere bhai tere haath jodta hu
Haath jodata hu tere paanv padata hu
& when its comes to atul being Kiddish to armaan got like….
Tu To Kehta Tha Ki Main Hoon Tera Yaar
Mere Siva Kisise Nahin Hai Tujhe Pyaar
That's their relation is like always kabhi wo ek dusre se ruth bhi jaye to bhi mana hi leta hai ek dusre ko
& when Anjali came into atul's life usko patane se lekar shadi tak armaan did everything & in anji's eyes make atul the super hero.& for him anji is the best frnd cum sister.& when its comes to anji's happiness armaan didn't even bother to scold his buddy dearest also…I mean to say atul also…
As after anji comes at this house their house becomes with lots of happenings from the day 1 only..
As this started with their love story only…
Anjali was quite arrogant at her collage & not at all giving a damn with atul then picture me entry hui armaan ki…
& armaan ne unke pyar ki gadi ko sirf start hi nhi karwai balki usko dhake mar mar k chalna bhi sikha diya..
Now Anjali changed a lot. For betterment off course…
As from her childhood she got everything she desired for so her expectation is always high class but atul did change her mentality so Anjali who used to be Anjali Kapoor became Anjali mallik in just a touch of love…
Anjali's parents who was don't agree with this marriage 1st agree later in insist of two person & Anjali is totally in love with this two.one of them is armaan other one is….uhmm not now kabhi aur baat karte hai unke bare me…
So back to Anjali & armaan's relation every year in rakhi Anjali used to tie the rakhi at armaan's hand &
In instant armaan became her savior in all means as now more than atul armaan became the instant protector of Anjali…. & for Anjali armaan is like in my style kahu to……
Bhaiyya mere, raakhi ke bandhan ko nibhana
Bhaiyya mere, choti behan ko na bhulana
Dekho ye nata nibhana, nibhana [Well I know ganna little old hai but what to do old Is gold na ;)]
After atul if someone is keep importance in her life this is this two person..
Well now came to muskaan-Rahul-armaan bond.......
Rahul & armaan is always enemy for each other though they care but still before everyone they are just in simple word enemy. Armaan bear Rahul only coz of atul&anji as Rahul is very dear to them. Though they said they don't trust each other still there is a bond between them which silently give each other the major responsibility..
Confused well let me clear ur confusion..
Armaan & Rahul are known to each other from their collage. Atul is kind of naïve in all time so evrytime he gets into trouble armaan was the only one to help but after college days due to their different aspect of profession armaan can't manage to be around atul every time & that time Rahul was the one to support atul.
1st armaan just used to heard rahull's name from atul but never got to get the chance to meet him & in other hand Rahul became his biggest enemy as in they compete in some bike race & street fight outside of college.& moreover even their fan following do increase decrease coz of each other's…
They never know atul can be connected them like this
Here at the end of the college atul introduce to them with each other & that's the battle start again coz this time the prize was their precious friend & after Rahul back from higher studies done on abroad this thing create a huge problem between them sat the end they come to smjhota that they will be behave good with each other for the sake of their friends but the cold war always keeps going on..
Though armaan hate him still in deep know if there he can't present then Rahul will always take care of his friends. But being armaan he never goanna accept the truth. Same goes with Rahul also.
Here muski was another childhood enemy of Rahul.Coz muski just hate him…They comes from the same village even the same pind from Panjab as Rahul is the neighbor of them.
& the major reason of muski's disliking's towards Rahul is Rahul's over smart clam nature, helpful to everyone, respect the elders & polite nature
U all might be thinking all this is good qualities then y muski hate him….well as our muski darling is unique so her cause also unique. From childhood to now she always just listen "be like Rahul" & over that her parents always bas Rahul k naam k hi mala japte rehta hai & this makes her irritate to the core, over the top Rahul always quarrel with her but in front of family he always act like a good one..
So all this makes muski to hate Rahul from the core of her heart.& this makes her close to armaan as she is anji's batch mate & close friend she knows them though anji they makes a great combo together.
Well that's the bond of everyone though they there is hatred stay still there is an unknown belief works on every one of them...
& now comes to the story y they afraid of armaan
As I say before armaan is very much possessive about atul & anji…
So it's just a few months ago incident when atul & anji go out for ice-cream they met an accident & as result they end up being admitted on hospital
& as result they got to see the angry armaan there & that time for the 1st time muski also witness all …
But without muski everyone knows about it..coz whenever they end up like this on any hospital or something for their stupidity they harm themselves they have to face it….
As armaan waise to bande thodi flirt si hai ajeeb ajeeb harkate karte rehta hai par aur dusro ki care karte itna hai that care karne k liye hi dant dete hai sabko aur sare gussa jab nikal nhi pate tab khud ko chot pouchate hai…par bande ache hai……..
So whenever they did something stupid they knows they have to go to armaan at the end & got a good lesson of his anger.so that's y that time also muskaan don't wanted to inform him…coz use to jayada din nhi hue na yeh pata hone ka that armaan itna gussa bhi kar sakta hai…
But other than muskaan no one actually bother about his anger coz they did know the actual reason of this anger though they afraid but still understand deep at heart he is gem of person….
& for armaan in my style…………
Dil ke pure bachche hai
Par bande achche hai
Bhul bhaal jaate hai
Thode kachche hai
Par bande achche hai
Inki aadato ki hazar kisse hai
Par bande achche hai
Change wenge hote nahi
Par manke sachche hai
Par bande achche hai
Ab u all know almost most of the armaan-anjali-atul-rahul-muskaan bond
If u still have any thoughts plz do ask it I will try to show them in upcoming parts or answer ur question…
so now back to story again….
Armaan:tu bolega ab kya kia tune
Atul(with fear):pehle bol tu nhi dantega……
Armaan(suspiciously):Pehle bol anji kaha hai…tune uske sath kuch gadbad to nhi ki(He saw atul bowing head hearing his talk so he sighed & say)Acha chal nhi dantungi bol kya kia tune?
Then atul set with him on sofa & narrate the whole thing of his greatest deed till anji use dhake marke bahar nikalwa dene tak…
Armaan(making face at him):sahi kiya beta teri yehi hal honi chahiye….
Atul(making almost crying face): Tu bhi yehi bol raha hai……..
BG music paly
Jaye to jaye kaha[scene shows atul almost on the verge to cry]
Samjhega kaun yaha dard bhare dil ki zuban[scene shows atul's face closely & then whole feature then again the face & lastly his eyes only]
Jaye to jaye kaha
BG music end
Till now muski also back & she hear their last bit of talk from that she guessed that atul said about the incident happened 3days before…
Muski(siding armaan):ha to tu kam hi aisa kiya na toh aise hi bolega na
Armaan(watching muski he remembered something about her expression after his arrival so he said):Acha chal chal ab aise faces na bana kar dungi teri help but uske pehle yeh to bata tune aur kya kya gul khilai itne dino tak….kyun ki ek baat to pakka hai jab tak yeh aur us nalayek hai toh tu ache se koi kam to kar hi nhi sakta…
Muski(acting like would cry just now):Tu mere bare me aisa bol kaise di…..tujhe aisa lagta hai that main sab gadbad karti hoon
Armaan(don't want another mess says):nhi yaar main teri baat thodi hi kar rhi thi main to us nalayek ka baat kar rhi thi…Btw wo hai kaha…
Hearing his question atul & muski look towards each other than hesitatingly muski said:wo to kisiko lane gaya hai
Armaan(confusingly):kisko?
From behind a voice said:mujhe
That's all for today
I think I write overboard today…
I mean so many things in just only one part
I hope u all don't get bored
Well now came to the quiz…
So there is two question
One is who is this new person?
& another is what more they did?
Chalo chalo guess karo…
Tab tak
Lv u all
Tc
Khudha Hafiz
Non writer tenta osa diavolo atto
Aisha urf rupkotha