Thanks to everyone who supported me till now to write...
& for few people lvs u a lots lots lots...(For those only whom i never say thnx)
Well for all of u only i write till part 10...
So here goes the story ...
Yeh dharavahik ek kalpanik katha ha, is kahani ke sabhi patra evam ghatnaye kalpanik hai, Aur Isska udeeshya kissi bhi dhaarmik bhawnaon ko thes pahunchana ya ritee rivajon ka uphaas karna nahin hain, yaadi inka kisi vyakti ya vastu se koi sambhad hota hai to usse matra ek sanyog kaha jaye ga.Iske liye authority ya ni ki writer ya ni ki main uske liye jimiddar nhi hu...Kripa karke sare galtiyaan maafi ki nazar se dekh lijiye...
Shukriya
Precap:
Sare raaz khul gaye
Pahelion k sang
Do dil mil gaye
In pyar ki rang
Kuch pyar bhari lamha
Kuch yaad bhari bate
Nayi addition ho gayi...
In all this bate...
Part 10
Padma & shashank who was downstairs go towards the scream which heard from somewhere near minnie's room...
As soon they reach there shashank burst out in laugh watching the condition of the second guy who came at the house & padma stood in shock watching his condition..
While from other side they could hear minnie's laugh also & riddhima who was standing behind Minnie is trying hard to keep a straight face but failed miserably & burst out along with Minnie...
& the first guy also came there watching the scene...he tried hard to keep a straight face.
& this 2nd guy was drenched in white floor in the door of minnie's room & still in a froze position & was just watching his own getup which by now turned whole white with flour..
Padma(who come out from shock part said looking towards the 1st guy):Are Rahul tu yaha hai to yeh koan hai...
Well guys this is none other than Rahul Garewal...
Well before u all get confused how he know them...I'm clearing it
Actually Rahul goes abroad for higher studies that time atul was just newly married & due to his dadi's health problem Rahul skip this higher studies for some years..
That time he joined atul & armaan @ office as atul & armaan done their higher studies while doing business as well & Rahul help them there for a while & after that when he go for studies he was in the same university from where riddhima complete her post-graduation & was doing internship that time
& in some function of university they both meet & in an unknown city getting someone from own country make them come close they became the best frnd in a few time & he also known to her family as they were 5 best buddies...well riddhima & Rahul ka to ab tak u all know & this other one also from there group chalo dekhte hai yeh koan hai...
The guy who comes after Rahul winched hearing her & said: Mamoni apne mujhe nhi pehchana
Hearing mamoni she give a close look to the guy & next second she almost screamed saying: Sid tu kab aya...
Everyone meet Siddhant Modi urf sid for frnds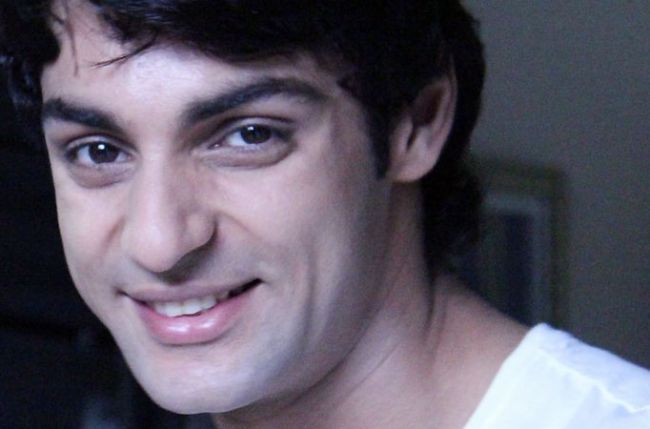 He was with riddhima @ same university
& when her family was there he used to get along with them very closely
Sid's mother & Padma are frnds that they come to know after they meet there in process of minnie's illness
He is chef in profession & works as a head chef in a well-known event management company though he did engineering in reading but cooking was his passion so he took it as profession
He is kind of fun loving, caring, Flirt but Faithfull & a very important thing he is little weak in Hindi
He loves his life...get along easily with everyone...
Very much lazy & stupid sometimes
Very fond of Minnie & riddhima...& always be the target of riddhima's prank
& he is very particular about his looks
Totally drammabaaz
About him...
Tu bhi dramebaz
Main bhi dramebaz
Saale dramebaz sab yaha
He comes to india before one year & join in a well-known event management company
Now back to story
All frnds of riddhima @ there called Padma mamoni that means mother in bangoli
& shashank as pops
Coz all of them were in abroad was lived without family they used to miss them so shashank asked them to call them like this so they don't miss their family much whenever they are with them
& shashank & Padma also treat them all as their own child..minnie also very fond of them
Though Rahul was there for a less time but still their's group is a great combo
Well back to previous scene
Sid(winched complaining about his looks):Mamoni...Dekho na..
Padma(patting his back wiping the flour from his back while with caring voice):kaisa hai tu...?
Sid(saying like a baby):Main thik hoon ap kaise ho?
Padma(then wiping both of their face with her dupatta):teri aisa haal kaise ho gaya..rahul tu to riddhima ko jagane a rhi thi na(meanwhile her eyes saw inside where riddhima-shashank hi-fi each other laughing at their faces & Minnie is busy clicking picture of them where sid is hiding his face she sternly said)Riddhima-Minnie kya kia tum logo ne..ye...
Before she complete sid started to itching & moving like different pausing when another fitch on laughter heard from behind,padma's hand also started to itch so she just go to wash her hand & here when sid can't control the itching they jump on the pool nearby...
After a while
Now shashank-riddhima-minnie-rahul are sitting on living room like in two seater sofa minnie & shashank & next to it one 3 seater sofa riddhima sit & next to her Rahul so they are & just opposite side of mini-shashank there is two sofa left so they are siting like...Minnie-Shashank-Riddhima-Rahul when Sid coming now dressed in shashank's Kurta & pajama which is little over sized for him
As soon as he come shashank-riddhima-minnie started to laugh secretly while Rahul was trying hard not to smile & riddhima started to talk with shashank loudly...
Riddhima(hiding her smile looking secretly at them):papa apko wo wala gana yaad hai..wo jo tha na...
Shashank(knowing again something is cooking up in her mind):konsi?
Riddhima:wohi wali(said that & started to sing)Haal kaisa hai janab ka...
Shashank(knowing y she choose it she also started to sing with her):Kya khayal hai apka..
Minnie(joining with them while standing & making riddhima stand showing the way they fall on pool):Hum to machal gaye oh oh oh...
Riddhima(showing minnie's way of showing hiding her smile sing changing lyrics a bit & started to sing ):Pair bhi fisal gaye...(then correcting the lyrics)opps I mean yuhi fisal gaye a a a...
Tweety(who come flying & siting on sofa hand):Haal kaisa hai janab kaaa
Then three of them laughed out loudly while Rahul stand their smirking & Sid sit in sofa just opposite of shashank & minnie little away while puffing & irritated expression
Sid(irritatingly): very funny...but hasna tha kya isme(shashank-riddhima- minnie nodded instantly)but mujhe bilkul hasi nhi ayi
Tweety(while sitting near ridhima's sofa hand): Oye paaji kadhi has bhi liya karo[dialogue of Ajay Devgan in Son Of Sardaar]
Minnie(giggling & said as if she has lots of sympathy for him): tch tch tch..so true orry..& btw..hasogi bhi kaise tumhe hasna ata thodi hi hai sadu kahi ka..
Riddhima(hiding her smile & glaring at her for using such word): Minnie..
Sid(watching her expression says): Ise kyun dant rhi hai tu konsa dhu...dhu...(stuck at his hindi)
Rahul(shaking his head at sid's weekness): Dhud ki dhuli hui..
Sid(again stuck):ha wohi dhu..dhu...i mean milk ki dhu dhu I mean wash ki hui hai????
Hearing his exclusive hindi...minnie started to laugh out loud and shashank-riddhima tried to stop smiling but failed and rahul also has a smirk on his face..
Sid(watching evryone's expression irritated & angry): wht????
All said together:kuch nhi(& next second all of them burst out in laughing)
Sid(faceing at ridhima):Tu kis janam ka badla le rhi hai mujhse...maine to tujhe surprise karne aye the aur (turning towards rahul)tu kya dant dikha raha hai..
Rahul(wiping the smirk from his face turning towards shashank-riddhima- minnie):yeh baat to sid ne bhi sahi bola hum to bas...
Riddhima(cutting his word with attitude): U both deserve that...& btw Rahul tu kyun iski taraf le rhi hai tujh par humne koi prank nhi ki...ya phir tujhe bhi white white face chahiye...chahiye to bol de hum bana sakte hai haina minnie(while hearing her Rahul immediately got up from near riddhima & sit far from minnie & riddhima near sid & minnie got up & sit next to riddhima while shashank left side of riddhima,she turned her face towards sid)& tu kisne kaha tha mujhe surprise karne k liye aise to from last one month kisi ka koi ata pata nhi tha,ab bade aye frnd se milne(while saying frnd word with taking time)
Rahul(whinching):Par maine kya kia yeh sara plan is gadhe ka thi(smacked at back head of sid)To tu mujh par kyun baras rhi hai..
Minnie(before he complete she said loudly):Kyun ki tumne bhi help to ki na use info deke that jiji is back
Riddhima(added with minnie):upar se ab tak pucha tak nhi kaisa hain sab thik hai ya nhi...To prank karu na to kya tum sabki arti utaru aur waise bhi I hate surprises u all know that
Well guys actually hua yun
Riddhima hate surprises but love to spoil it
& here Sid & Rahul comes to surprise riddhima but somehow she got to know this before so she and Minnie with the help of shashank arrange all this matlab flour mixed with itching powder.. & as per plan shashank inform them they are coming,so with two bowl Minnie & riddhima was ready.& fortunately for Rahul he choose to wake riddhima & unfortunately for sid who choose to wake minnie & so as the moment sid opened the door all the things contain in bowl was at his face & dress and due to flour his face turned white and due to itching powder he started itching and later fall on swimming pool
So back to convo again...
Like this they started to bicker while meanwhile a lady wearing baby pink-red salwar suit come from behind them and seeing them bickering shout: Shut up
All stop and look towards the lady.well she is padma...
Padma: Yeh kya bacho jaisi lad rhi ho...Aur waha wo prank kiski plan thi huh...
Smile from the face of shashank-riddhima-minnie wiped away..
Before they could say something sid almost tried to tell everything but before that Rahul divert her saying: Mamoni... boht bhuk lagi hai kuch khane ko milegi kya?
Padma:ha obiously yeh bhi koi puchne ki baat hai...tum sab aao main khana laga rhi hoon..waise waha...
Rahul(making her turn towards kitchen & pushing her towards that way):Mamoni jaldi jao na plz boht bhuk lagi hai
Padma laughing walked away
Sid(fuming):Tune mujhe bolne kyun nhi di..
Rahul(turning towards sid):Abe tu kya play me padti hui chota bacha hai jo inki complain principle se complain kardega (Hearing him Sid make a sulking face)Aur waise bhi in point she is correct...well riddhima I'm sorry ab bata kaisa hai...?
Riddhima(pouting): Usne sorry nhi boli
Rahul(smacking at sid's back of the head):abe sorry bol..
Sid(making face):Sorry
Riddhima(nodding her head a little bit): its ok..& I'm sorry too...(then hugging both of them together) & I miss u guys...
Both of the guys said in union: We too miss u...
Minnie(crossing her hands in hip & pouting):Mujhe koi miss bhi nhi ki...
Both said again: We miss u too sweetheart
While tweety while flying in circle above their head: Yeh dosti hum nhi todenge
Chodenge dum magar tera sath na chodenge[I know everyone knows about this song still its from sholay]
They all laughed at its selection of song...
After a while they all settled & have food & talk for a while & Suddenly Rahul got a call & have to leave for something urgent in office..
Rahul(after talking a while looked towards other):acha listen guys I need some important work to do I have to go to office for a while
Sid(making face):Sunday ko bhi office kon jati hai...
Rahul(cross question him):Kyun tu nhi jati
Sid(little tensed): Matlab...is he back?
Rahul(nodding head in yes):yea kal subah hi aya..
Sid(making sad face):Phir to tu kat le beta itni din baad ayi hai to teri to band bajne wali hai
In their office talk others were getting bored so riddhima suddenly asked:tum dono ek hi company me kam karti ho kya?
Both the guys said together:ha..
Rahul: I work as Pa of CEO of the company & yeh head chef as it has a section event management
Riddhima(getting excited):wow that's cool...aur batao
Rahul(hurriedly):acha yeh batayega tujhe main ab nikalti hoon
Saying a quick bye to everyone rahul go out..
& after come back shashank go inside with padma & sid-minnie & riddhima settle on sofa in this suddenly riddhima remember something suddenly got up...
Minnie(confusingly): kya hua ap achanak khadi kyun ho gayi...
Riddhima(badi badi ankhein kar ke): Minnie we forgot to inform her...
Minnie (looked at her in puzzled & said): kise inform karna vul gayi jiji...
Sid(in scared face):kahi tu unki baat to nhi kar rhi hai jiski bare me main guess kar rhi hoon
Minnie(watching sid's expression then thinking something):kahi ap...
Riddhima instantly nodded her head in yes
Sid(with horrified expression):Nhi...teri wo Hitler...
Riddhima(defended):Oy unko hitler mat bol...
Sid(with sulking face):Hitler na bolu to kya bolu...last time mall me mili thi mujhe itna danta aur sabke samne kaan pakad li aur pata hai meri usi waqt patai hui girlfrnd ne mujhse break up Karli...
They both giggled
Suddenly riddhima stop laughing & her face lit up & turning towards sid: I have a plan..
Sid(horrifeied):no way
Riddhima(excitedly):Yes way..
Sid(loudly):nhi...tera plan matlab surely kuch ut patang sa hogi bilkul nhi main nhi hoon isme...
Riddhima(excitedly): Are pehle sun to le...actually I want to meet her & surprise her
Sid(going away from her while getting up): Ha to ja na mujhe kyun bol rhi hai
Riddhima(going behind him): are sun na...mujhe teri help chahiye...
Sid(horrified):No way...main nhi milungi wo hitler se..pata hai kitni darawni lagti hai...
Riddhima(glaring):Sid...behave...khabar dar jo unke bare me anap shanap boli to...
Sid(irritated):To kya kar legi...
Riddhima(with sweet coated words said):Aj to ate pe sirf itching powder mili hui thi kya pata next time fevicol ho...phir jana apne sari titliyoon k samne apne chehre pe kabhi na utarne wali safedeki chamak lekar...(Minnie giggled)
Sid(fearing at her remarked):Tu aisa kuch nhi karegi...aur waise bhi maine darti nhi hoon tujhse(saying this he step back & riddhima & Minnie step up towards him)
Riddhima(with one brow up):oh really...
Sid:ha to nhi darti hoon na...jao jao..(Saying this he tried to go away from them walking backword while Minnie push him on sofa & both the girls block his way)
Riddhima(smirking):Ab bhi nhi darti...
Sid(trying to show confident):N..n...nhi
Riddhima(Raising one brow up):oh really...O_o
Sid(scared):Tum log kya karne wale ho sach sach batao..
Riddhima(looking at Minnie continued while winking at her):jayada kuch nhi bas humara ek choti si help karni hogi..as humne unhe humare ane k bare me kuch nhi batai & as bcoz of study & I was got very less time to spend with her not even talk with her properly & upar se shadi bhi attend nhi ki..to she definitely gonna mad at us sooo...(while saying so with longer time & pressuring on the letter o)
Sid(sulking still afraid):So...so kya...Tujhse naraz hogi to main kya karu...ja mana unhe mujhe kyun pakad k rakha hai...
Riddhima(saying as if it's so easy):Simple...Tujhe humare madad karni padegi...unhe manane me
Sid(very difficultly freeing himself from their hold):Main nhi karne wali kuch bhi aisa...
Before he complete his line he saw a video playing on tab in front of him it's the same video where he fell on swimming pool because of itching powder & the both hand which is holding the tab is none other then one of riddhima's & other of minnie's in both side as Minnie standing on sofa right now as sid is siting on sofa now.They both standing there smirking at him devilishly
Sid got up & tried to catch it but before that riddhima snatched it & both of them started rotating around him while passing the tab to each other said each one a word like this...
Riddhima:Ab agar
Minnie:Ap yeh nhi chahte
Riddhima:that yeh video
Minnie:fb per jay
Riddhima:& teri sariii titliyaan mera matlab all of ur girlfrnds
Minnie:isi video main tag ho jay
Riddhima: then tu wohi karega..
Then standing in front him & pushing him again in sofa both said in union: jo hum kahenge...
Tweety(who was quite till now fly & sit on riddhima's shoulder):Ab Tera kya hoga Kaalia?[Movie: Sholay Star: Amjad Khan]
While both of them smile evilly
Finding no other way he have to agree her plan...
Scene faded at sid's bechara face...& riddhima & minnie's devilish smile...
After a while...
Riddhima & Minnie siting on the table & sid on the sofa of living room while clutching his mobile & cutting the call 15th time
Riddhima(getting irritated):Tujhe ek call karne me ek ghanta lagti hai kya?Pichle ek ghante se dekh rhi hoon bar bar phone utha raha hai & ring hone se pehle cut..Dekh tujhe agar lagta hai hum phokat me bol rahe hai about video to abhi upload karu kya fb me...
Sid(getting mortified):Nhiii...main kar rhi hoon abhi call...
After that sid talked in the mobile for a little bit while trying his best to fulfil their 1st step of the plan but failed terribly...
Hearing everything as the phone was on speaker Riddhima got up & started to walk from one side to other while minnie is walking behind her & tweety is just flying behind them above their head. & sid siting in the sofa in his previous place only thinking wht afad gonna come this time in avtar of their plan..
Minnie(suddenly top follow her & stood as result bumped with her then looking at riddhima):Jiji Plan A to fail hogaya...ab...?
Riddhima(thinking then smilingly at her):If plan A didn't work,to kya hua...not to worry darling,there are 25 alphabetes left agar usse bhi kam nhi bani to numbers are always available...so taiyar for next plan...Wink
Sid(afraid):Ab Konsa kand karna hai tum dono ko...?
Riddhima(smile evilly): Hume nhi tujhe karna hai...
Next Day at morning
Outside of A huge mall
A girl wearing light yellow-turquois long suit with blue loose pajama her hair is open and holding hand of a guy who was wearing one 4piece deep blue suit with blue tie and white shirt entered in the mall. Both were talking about random stuff like what to buy and where to go...
They roam for a while buy some stuff for each other and for others..
When the girl declared she is tired they settled down on the cafeteria area of the mall waiting for someone.
The guy who was with the girl got a urgent call & left while promising to come back after 1 hour now the girl waiting on the cafe there for someone...
When suddenly someone hold her eyes from behind...
That's all for today
Today's quiz is that
Who is this girl?
& who is the person who hold her eyes...
Lets see kitne log sahi jawab dete hai...
Milte hai kuch din baad
Tab tak...
Lv u all
Tc
Khudha hafiz
Non writer tenta osa diavolo atto
Rupkotha urf aisha