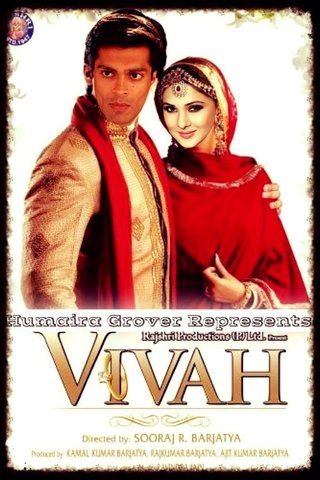 Part 23
She then came out of her thoughts and looked at riddhima who gestured towards rahul. Muskaan forwarded her hand and rahul slipped the ring in her finger. She then slipped the ring in his hands with shaky hands. Everyone clapped and dinner was announced.
AT NIGHT
Riddhima was putting clothes in her cupboard. Armaan was sitting on the bed working on his laptop, resting his back on the headboard. His gaze fell on riddhima and he got lost in her.
Her hair were falling on one side, revealing the other side of her neck. She was bent towards the cupboard so her bare waist showed more.
Armaan was lost in her but came back to earth when his phone rang. He saw rahul's name flashing.
Ar: haan rahul bol!
Ra: yaar tujhe yaad haina ke humein canada jaana tha 3 week baad!
Ar: haan to?
Ra: woh canada wali meeting ki date peeche aagyi hai to abh humein kal subha hi nikalna hoga!
Ar: acha theek hai! Lekin kitne baje!!
Ra: subha 9 baje!
Ar: k!
Armaan cut the call and glance over at riddhima who was still fixing the wardrobe. He closed his laptop and sighed.
Ar: riddhima?
Ri: jee?
Ar: mujhe kal subha canada jaana hai! Business trip! Mere kapde pack kardogi!!!
Riddhima's hands stopped working. She froze where she was. This was not the first time he was gonna leave her after marriage but this was the first time he was gonna leave her after their friendship. She didnt know his feelings but she loved him a lot. Maybe he just considered her as a friend but she considered him as her life. Her life depended on him.
Ar: riddhima?
He brought her out of her thoughts and she took a small suitcase out. And came and put it on the bed.
Ri: aapke konse kapde rakho?
Ar: kuch formals aur kuch nightsuits.
Armaan noticed riddhima wasnt looking at him and her expressions changed from before. He got up from the bed and held her hand making her stop working. He turned her around saw she was still not looking at him. He put a finger under her chin and made her look up at him. He saw tears glistening in her eyes. He cupped her small fave in his hands.
Ar: riddh- riddhima kya hoa?
She tried her best to smile but tears dropped from her big emerald green eyes. Armaan wiped her tears and she hugged him tightly making him startled. He hugged her back and ribbed her back to calm her down.
Ar: riddhima kya hoa tum ro kyu rahi ho?
Ri: matt jaye plz!!
Ar: riddhima sirf 2 week ki hi to baat hai!
Ri: phir bhi!!
He came out of the hug and held her by the arms and brought her closer.
Ar: dheko riddhima! Jaana to hoga! Main pakka 2 week mein aaj jaonga! Aur agar kaam jaldi khatam hogaya to main try karunga jaaldi aane ki!!
He kissed her forehead and his lips lingered there. She got surprised by this sudden act of him because he never kissed her before. She was feeling very nervous right now. It was the first time armaan kissed her on the forehead.
Ar: waise tum jitne bholi dhekti ho utni ho nahi!
Ri: jee? Kya matlab?
Ar: atul ne mujhe bataya tha ke tum college bunk karke chaat khane jaati thi aapni dosto ke saath.
Riddhima's eyes widened with shock. Why the hell did atul have to tell her this. Oh god what will armaan think of her now. She did bunk classes but she didnt want secret to leak out.
Ri: jeeju ki to main khabar lelongi lekin a-aisa k-kuch nahi hai! Main college bunk nahi karti thi!!
Ar: (laughing) tumein to sahi se jhoot bolna bhi nahi aata!!
Ri: (whining) armaaaan!!!
Before armaan could say anything, there was a knock on the door. Riddhima went and opened the door to see nikki standing.
Ri: nikki tum?
Ni: bhabhi! Mujhe help chaiye!!
Ri: iss time?
Ni: haan plzzz!! Yaad hai aapne mujhe romeo juliet ke ooper essay likhne mein madat ki thi?
Mujhe uspe bohot aache marks mile thay!!! Isiliye mujhe uspe ekk script liknhe hai! Aur aapko to sab pata haina, unki pyaar ki kahani, u know?
Ri: haan chalo lekin itni raat ko! I mean sagai ke baad tum thaki nahi?
Ni: thaki hu! Lekin subha hi dena hai! Aur muski di ki sagai ke chakar mein aapna assignment hi bhool gayi!!!
Ri: ok chaalo main tumhari help kardeti hu!!
Ni: (waving to armaan) goodnight bhaijaan!!
Ar: goodnight nikki!!
Nikki ran off to her bedroom. Riddhima was about to go but turned around to look at armaan, who was staring at her. She blushed and ran to nikki room. Armaan sighed and started to pack his suitcase.
ARMAAN POV
Kya riddhima sirf meri dost hai ya phir usse zada? Nahi woh sirf meri achi dost hai aur biwi!
I mean mujhe kabhie pyaar nahi hosakta!! Lekin mujhe aisa kyu feel hoa ke usse sahara dene keliye maine usse forehead pe kiss kiya? I think mujhe pyaar horaha hai! Arre nahi Business man Armaan mallik ko kaise pyaar hosakta! Pyaar dhoka deta hai! Mom ne bhi dhoka khaya aur muskaan ne bhi!! Shayad riddhima ro rahi thi aur mujhse usske aansoon bardasht nahi horahi thay!! Lekin kyu? Han shayad woh meri dost and most important meri biwi hai aur maine vaada kiya hai ke meri waja se jo ussne dhuk dheke hai to meri vaja se hi uske muh par muskurahat aayegi!!
ARMAAN POV END
IN NIKKI's ROOM
Nikki was sitting on the bed with her laptop while riddhima was sitting infront of her.
Ri: to batao? Kya likhna hai script mein?
Ni: bhabhi bohot simple hai! Mujhe ek play likhna hai hai romeo juliet pe! Aur mujhe to story aati nahi isiliye aapki help chaiye!!
Ri: hmm! Okay likho!!
Riddhima started to tell her the story while she sat there listening to it.
Ni: bhabhi mere laptop ki battery low hogayi hai!! Charger bhaijaan ki study mein hai main lekar aati hu! Aap yaha wait karo!
Riddhima smiled and nikki ran to armaan's study to get her charger. Riddhima got up and went and stood near the window. She looked outside.
RIDDHIMA POV
Aaj pehli baar armaan ne mujhe kiss kiya! Kya woh bhi meri liye-? Nahi! Woh to kissi aur se pyaar karte hai!! Unho ne to shaadi ki pehli raat mujhe kaha tha ke woh mujhse kabhi pyaar nahi karenge! Shayad sirf woh mere pati hai aur ekk dost! Jo bhi ho jaye armaan! Main apse abh bhi pyaar karti hu aur humesha karti rahungi!!
RIDDHIMA POV END
A tear trickled down her cheek. She looked at the moon and saw armaan's face in it. More tears fell out her eyes.
She loved armaan a lot but the bitter truth was that he loved someone else. To her, he only took her as a friend and a wife. But she didnt know that her husband didnt love anybody. He just lied to her ti stay away from her!!
Nikki came back and and riddhima wiped her tears. They started working on her assignment.
NEXT MORNING
Muskaan and Riddhima were serving breakfast when armaan came downstairs with his bags.
Muskaan and Ananya got confused seeing his bags.
An: beta tum kaha jarahe ho?
Ar: mom mujhe aur rahul ko 2 weeks keliye Canada jaana hai! Business trip!
An: itne din?
Ar: jee mom!!!
Armaan came and sat down with muskaan and Ananya.
An: riddhima beta nikki kahan hai?
Before riddhima could answer, Nikki came down is her nighty. Her hair were tied into a messy bun. She yawned and came and hugged Riddhima.
Ri: good morning!
Ni: (half asleep) morning!
Ar: nikki yeh kya hai? Tumhe kitne dafa kaha hai ke naha ke neeche aaya karo!!
Ni: uffo bhaijaan! Jab dheko mujhe daant rahe hote ho! Aapke banaye hoye rules na! Uff!!
An: nikki sharam karr bade bhai se koi aise baat karta hai kya?
Nikki saw that Anjali and Atul weren't present on the dining table and frowned.
Ni: mom AJ bhai aur Anjie bhabhi kidhar hai?
This time riddhima also noticed and got confused.
An: beta Atul zara kaam se gaya hai aur anjali doctor ke paas!!
Ar: (confused) mom anjie doctor ke paas kyu gayi hai!
Ni: hawww bhai aapko nahi pata?
Ar: kya nahi pata?
Ni: k Anjali bhabhi is Pregnant???
Ar: WHAT???
An: haan beta lekin atul ko naa batana!
Ar: kyu?
An: kyunke anjali usse uski birthday pe surprise degi!
Ar: woh to theek hai lekin mujhe kisi ne kyu nahi bataya! Aur yeh atul aapni biwi ko iss halat mein chod ke kaam se gaya hai! Pagal to nahi hogaya?
An: usse thodi pata hai ke woh baap banne wala hai! Aur waise bhi agar pagal ho bhi lekin aapni Biwi se pyaar to karta haina! Tumhari tara nahi hai!!
Hearing Ananya's taunt, riddhima eyes welled up and she looked away. Armaan felt bad. He did treat her bad but now he wanted to be her closest friend and not a bad husband.
Ar: (coughing) mom mujhe airpot jaana chaiye! Flight keliye late hojaonga!
He got up and buttoned up his coat. He hugged Ananya and kissed nikki's forehead. He hugged riddhima and was going when Muskaan came in front of him.
Mu: bhai app mujhse mil kar nahi jaoge!!
Armaan stared at her blankly and was about to kiss her forehead when just caressed her head and went. Muskaan ran to her room, leaving nikki, riddhima, and Ananya confused.
An: isse kya hoa?
Humaira