Shilpa starts to feed him n other are looking at them in awe n someone wid pure jealousy..
Wid this she also starts to talk wid him
Shilpa : wo kokila kaki hena unhe na dil ka dora pada tha
Armaan : what or tumne mujhe bataya bhi nhi"but shilpa interrupt him"
Shilpa : are suniye to esa sabko laga tha par unke na sirf seene me dard tha sab bohot dar gae the
N armaan take a sigh relief
Shilpa : or na wo radha he na use bacha ho gaya"wid excitement"
Others are also listening their talks
Armaan : kya sach wese kya naam rakha he bache ka"wid happiness"
Shilpa : wahi jo apne kaha tha SOM
Armaan : kya sachi wese kitne kilo ka he bacha"wid happiness"
Shilpa : 20 kilo ka
N others are like what the n together says
All : what 20 KILO KA BACHA"they couldn't digest this news"
N shilpa being innocent use samjh nhi aata ki ye itna chillae kyu n hold armaan's hand
Armaan understand n press her hand
Geet : kya 20 kilo ka bacha ye kese ho sakta he
Shilpa : kyu nhi ho sakta geet bhabhi gae (cow) ka bacha to 20-25 kilo ka hi hota he"she says as matter of fact"
All again shout
All : what tum dono gae (cow) ke bache ki baat kar rahe ho
Shilpa : ji uska naam radha he humne hi to diya tha"wid cute smile"
Armaan also smile looking towards her
Armaan : wese meri swati kesi he"wid teasing tone"
Shilpa just grinned hearing her name
Armaan understand kuch to he n he raise his eyebrow n ask
Armaan : kya kiya tumne uske saath bolo shona
Shilpa : hum kya karte wo bar bar hume pareshan kar rahi thi ki armaanji kitne ache he armaanji bohot ache dikhte he armaanji kitni pyari baate karte he to hume gussa aa gaya humare pati ke bare me is tarah ki bate besharam ladki janti he ki aap humare pati he shaadi shuda he fir bhi kutti kamini "n she starts to curse that swati"
All others are looking at her in awe n armaan he again lost in her
Armaan : I missed u shona oh damn so much"shilpa lower her eyes wid shyness"
Armaan : shona I just missed this bak bak of urs wese tumne kiya kya us bechari ke saath bata bhi do
Shilpa : use kue (well) me gira diya"she easily says dat"
Armaan n others : what"wid utter shock"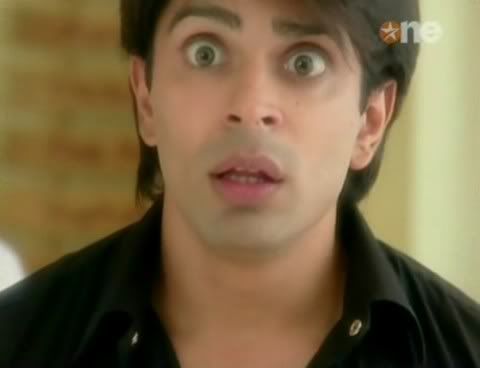 Armaan : shona ye kya kiya tumne damn ab wo kesi he batao"some what worried"
Shilpa wid little anger
Shilpa : kya apko us chipkali ki chinta ho rahi he huh… gande armaan jaiye hum aapse baat nhi karte"n turn her face"
Armaan : shona suno na"but she didn't listen"
Armaan : shona e mera bacha suno na baba me uske liye nhi tumhare liye soch raha hu baba bachu sun na
Shilpa : humne use akele me nhi kuch logoke samne giraya tha shyam kaka ne use kue se nikal liya bas khush
Armaan takes a relief breath then says
Armaan : ab meri taraf dekho na bachudii "but shilpa nod her head in no"
Armaan : shona jaan sun na wese meri pari kesi he
(Pari is shilpa's elder sister's daughter she is just 5 year old n loves armaan so much)
Shilpa turns towards him n wid smiling face
Shilpa : wo to apko bohot yaad karti he zid bhi kar rahi thi yaha aane ki humare saath
Armaan smile bcoz his task accompanized
Shilpa : apko sab bohot yaad kar rahe he gao me or na"while counting on her fingers"
bablu,pintu,chintu,chotu,motu,golu,bholu,sonu,monu,pinku"jab uski ungliya khatm ho gai she takes armaan's hand n count on it"
Rinku,suraj,sagar,sharad,pillu apke sab dost apko bohot yaad kar rahe he
Others are thinking she is sooooooooo cute n armaan uske bare me kya kehna bas yahi ki he is mad for his shona
Armaan : sab yaad kar rahe he bata diya or meri jaan usne mujhe miss kiya ya nhi
Shilpa : humto kabhi apko bhule hi nhi jo yaad karna pade aapme to jaan basti he humari
Armaan just take her in hug n says
Armaan : oye hoye
Like this armaan's dinner finished
Arohi : armaan tune to kha liya khana ab shilpa ko bhi to khila de
Armaan also feed her n after that all are talking telling shilpa about armaans childhood n about his girlfrnds list
Geet : u know what shilpa armaan na humesha se ek no. ka flirt tha ladkiya iske aage piche ghumti hi rehti thi
Shilpa just gave her small smile but kuch kehti nhi he
Arohi : kya hua tum kuch keh kyu nhi rahi I know tumhare pati ki itni sari girlfrnds thi isliye tumhe bura lag raha he but believe me armaan ne kabhi apni limits cross nhi ki
Sabko lagta he ki she is feeling bad after listening this n try to make her understand that armaan never do anything wrong
Maan : ha shilpa wo ladkiya armaan ke piche rehti thi armaan serious nhi tha kisike bhi saath sach me
Arjun : ha wo to bas enjoy karta tha sabka attention or kuch nhi tum bura feel mat karo
Sid : ha ye sahi bol rahe he armaan bohot acha insaan he
At last shilpa says to armaan
Shilpa : aapke dost apse bohot pyaar karte he dekhiye kese apki tarafdari kar rahe he
YV : nhi nhi shilpa bhabhi hum side nhi le rahe wo sach me bohot ache he
Shilpa : yuvraj bhaiya humne kab mana kiya ki ye ache nhi or wese bhi humse behtar kon janega inhe
Naina : to aapko bura nhi laga ye sab sun kar ki dr. armaan ki itni sari girlfrnds thi apse pehle
Shilpa : hume kyu bura lagega bhala bhale hi inki zindagi me humse pehle kai ladkiya thi par jo jagah humari he waha tak to unmese koi bhi ladki nhi pohuch sakti kabhi bhi nhi
N after hearing shilpa's this comment riddhima puri tarah jal gai its like shilpa ke ye word uske face par slap ki tarah lage.Riddhima having hard time to control her anger.
Sharad is also there
So gang ask him
Maan : so sharad tum kya karte ho
Sharad : hum to guru ke saath hi rehte he jo guru kahe wahi karte he
All others become confused unhe samjh nhi aata ki wo karta kya he uski baato se to lag raha he nothing n armaan, he just smile at that n says
Armaan : esa kuch nhi he guy ye mazak kar raha he , he is a doctor guys meet dr. sharad kumar
All again become shocked ki ye ek doctor he
All : doctor
Armaan : yup he is child specialist best at his work"wid proud which clearly visible on his face"
All are talking to shilpa n sharad n armaan usko koi chance hi nhi de raha n he is getting impatients to be wid his shona but uske dost urgggg
Armaan was thinking : agar dost ese ho to dushmano ki kise jarurat meri biwi se thik tarah baat bhi nhi karne de rahe mujhe huh..  
After sometime shilpa excused herself from them n went towards the other dancers they are going back so she is talking wid them sending them off
Armaan was continuosly looking towards her looking at her each n every move armaan's others frnds see this n come towards him n says
Sid : ese kya dekh raha he
Armaan : use dekh raha hu kitne dino baad saath he wo mere itne dino tak kabhi dur nhi raha me usse,surgeries ke liye gao se bahar yaha tak ki out of india bhi gaya hu bohot bar but 1 ded hafte se jya nhi but yaha aae 1 n half month ho gaya mujhe uff
YV : but jis longing se aap dekh rahe he unhe wo to apki taraf dekh bhi nhi rahi he
Armaan smile at YV's remark n other become confused except sharad bcoz he knows both of them n knows their love for each other
Arjun : kya hua muskura kyu raha he"wid confusion"
Armaan : jis tarah me use dekh raha hu wo bhi kabse mujhe hi dekh rahi he
Geet : ha ha shilpa ke sar ke piche bhi aankhe he na tujhe dikh nhi raha uski back humari taraf he
Armaan just shook his head n says
Armaan : mujhe dekhne ke liye use palatne ki jarurat nhi shilpa ke samne wali wall par dekho
They all look towards the wall n waha unhe mirror nazar aata he
Arohi : waha to mirror he"wid confusion"
This time sharad says
Sharad : dhyan se dekhiye us shishe me
There they all see ki shilpa also continously looking towards armaan through mirror
All are in awe seeing their love n some one is very jealous n thinking
"armaan itni asani se kese aage badh sakta he wo mujhe nhi bhul sakta ye sab sirf ek dikhawa he ha me janti hu ki wo aaj bhi sirf mujhse pyar karta bas mujhe jealous feel karana chahta he or wese bhi ye behenji armaan ki biwi its just disgusting huh.. ye ladki meri barabari bilkul nhi kar sakti kabhi nhi"
She couldn't see all this n wid tears of anger,pain n jealousy she left the party.
Ramya