- PART 5 -
*************


Shanu : dar lag raha he nind nahi aa rahi"innocently"

Armaan : hmm to apko nind nahi aa rahi lori gadu kya"with little smile"

Shanu : to gado na armaan"innocently"

Armaan smile at her innocence

Armaan : first close ur eyes

Which she obeys

Armaan : yeh dil ki sada hai,meri yeh dua hai
jaagu mein jaagu tujhe nind aa jaye
labo ki hasi de,tujhe rab khushi de
tujhpe gamo ki kabhi aanch na aaye
toot ke jo judta he wo saaz hota he
hmm hmm hmm hmmm..."sing with thick voice choked with emotion"

Armaan ki lori sunte hue shanu fir nind me chali jati he n armaan he continue to care her hairs


Baki sab bhi armaan ko gaate hue sunte he n shocked ho jate he because use is tarah kabhi kisine nahi dekha itna caring, itna possessive

Kisike kuch samjh nahi aata armaan ne abhi kuch der pehle kaha ki wo us ladki ko nahi janta n jab riddhima ne usse pucha ki kya lagti he wo ladki to wo kitna gussa ho gaya tha but jese hi ye ladki samne aayi uska gussa ek pal me chumantar ho gaya

Sab confuse he kuch nahi samjh pa rahe

Sab log bahar se shanu ke private room me dekhte he armaan ko us ladki ki itni care karta dekh koi bhi yahi samjhega ki ye jo bhi he armaan ki jaan he uska pagalpan usi zindagi he but armaan ne to kaha he don't know her then????

Sawal bohot he par jawab ek bhi nahi or armaan wo inlogo ko sach bhi nahi bata raha

Sab soch rahe he jo armaan keh raha he wo sach he ya jo wo log dekh rahe he wo sach he

Riddhima ki stat to alag he wo digest hi nahi kar pa rahi ki armaan itna caring itna possessive itna aggressive ho sakta he wo soch rahi he ki jab armaan uske saath tha tab bhi use lekar itna possessive nahi tha hell wo bilkul possessive nahi tha

Riddhima usse bar bar bola karti thi ki kesa BF he wo apni GF ke liye 1% bhi possessive nahi or aaj usi armaan ko had se jyada possessive dekh rahi he wo apni aankho ke samne but apne liye nahi kisi or ladki ke liye is tarah ki ladki ke liye"she shook her head in disgust"

Armaan ko to or kisike bare me sochne ka waqt hi nahi milta wo to bas shanu ko dekh raha he or use dekh dekh kar muskura raha he soch raha he kitni innocent he shanu kitni khubsoorat ek dam pari ki tarah

Wo kal raat ki tarah fir se usi position me so jata he ek haath se uske hairs cares karte hue or dusra haath uske haath me n he also slept on their joint hands with sweet smile on his face

Baki sab locker room me he

Anjali : armaan ne to saaf inkar kar diya ki wo us ladki ko nahi janta

Riddhima : wo jhut bol raha he"with anger"

Muskan : par mere samjh nahi aa raha hero jhut kyu bolega

Rahul : tune pehli bar kuch akal ki baat ki he"to muskan"

Muskan : oye khote tuna.."but others stop her"

Nikki : chod yaar muskan abhi insab ka time nahi he hume armaan or us shanu ke bare me pata karna he kya rishta he un dono ke bich ye janna he

Sab soch me padte he kuch der baad

Muskan : kahi hero or us ladki ka koi lafda to nahi

All : WHAT"shockingly n someone there glaring muskan angrily"

Rahul : tu bakwas na kiya kar samjhi

Muskan : oye Bandar tuna bar bar mujhe chup mat karaya kar samjha nahi to yahi gaad dungi tujhe chachundar kahi ka

She is ready to eat rahul alive

Sab log rahul n muskan ko ek dusre se dur karte he

Abhi : wese dr. muskan ki baat me kuch dam to he

Ab sab abhi ki taraf dekhte he

Nikki : tum kehna kya chahte ho abhi

Abhi hesitately look all of them n at last riddhima n slowly starts to speak : nikki hum sab jante he dr. armaan ki life me ab koi nahi he i.. ii.. I mean he is alone so shayad is ladki se mulakat hui hogi kahi n shayad..."n he stop"

Sab sirf abhi ki taraf dekh rahe he n riddhima wo to gusse se laal ho rahi he

Riddhima : ye kya bakwas kar rahe he aap dr. abhimanyu mana ki apki or armaan ki nahi banti but aap uske liye armaan ko is tarah badnam karenge me kabhi soch bhi nahi sakti thi aap soch bhi kese sakte he armaan ke bare me is tarah wo istarah ki ladkiyo ke saath koi rishta rakhega kya aap bhul rahe he ki kaha se mili he wo ladki kis tarah ki hogi wo"she said angrily"

Nikki : riddhima bilkul thik keh rahi he tum esa soch bhi kese sakte ho abhi"angrily"

Sid : bhai bhabhi n riddhima dono sahi keh rahi he or armaan ne kaha tha na ki koi or ladki bhi hoti uski jagah to wo uski bhi madat karta

Rahul : but hum log fir wahi aa gaye he jaha se chale the armaan ki mane jese wo keh raha he ki wo us ladki ko nahi janta to uski care uska pagalpan uska possessiveness aggression us ladki ke liye wo sab kya he

Sab kuch der khamosh ho jate he fir decide karte he ki kal fir se armaan se baat karenge or isi ke saath sab apne apne ghar chale jaate he

Next morning

Shanu's room

Sun peep inside the room through window n witness the most beautiful site armaan or shanu dono ek durse ki baaho me soye hue he

Both are sleeping on same bed armaan ke chest par shanu ka head he is holding her securely in his arms her hairs are spread all over his chest n face there is a content smile plaster over their faces jese yahi usni zindagi ka sabse khubsurat pal he

Both arsh (armaan + shanu) are sleeping peacefully in eachothers arms but koi he waha jo shocked no more than shocked he un dono ko is position me dekh kar or wo koi or nahi rahul he

Rahul subah jaldi sanjeevani aa jata he becoz of emergency call from hospital but jab wo free hota he thought to check shanu

Or use ye scene dekhne milta he but shock hone ka silsila yahi ruka nahi wo dekhta he armaan ki nind khulti use lagta he ki armaan ne jese kaha ki nahi janta us ladki ko to apne aap ko us ladki ke saath same bed par dekh gussa hoga uspar chilaega kuch kahega so rahul bhi room ke andar aata he armaan ko rokne ke liye but usse pehle ki wo kuch kahe wo dekhta he ki armaan gave kiss to that girl over her forehead with this move of armaan rahul stop in his track

Armaan cares her face n says

Armaan : Good Morning sunshine

Shanu giggle over this n reply with closed eyes

Shanu : good morning bunny

Armaan : oh so madam jag rahi he

Shanu : hmm kya karu tum itna snore jo karte ho me so hi nahi payi"said with pout"

Armaan is like O'

Armaan : what me snore karta hu

Shanu : yes u do

Armaan : no I don't

Shanu " yes u khaarrr

Armaan : me nahi tum u snore khaarrr

Shanu : hawww I don't u khaaarrr

Both starts to fight

Armaan : acha to me snore karta hu abhi batata hu"with mischieves in his eye"

Seeing the look in his eyes shanu's eyes get wide

Shanu : armaan nooo

Armaan : yesss

Shanu : armaan nooo

Armaan : yesss"with this he starts to tickle her"

Shanu : hehehehehehe arrmman... Hehehehehehe... nnnooo hehehehehehehehe stoppp... Hehehehehehe

Both are laughing whole heartedly

Armaan stops n takes her in a tight hug still both are laughing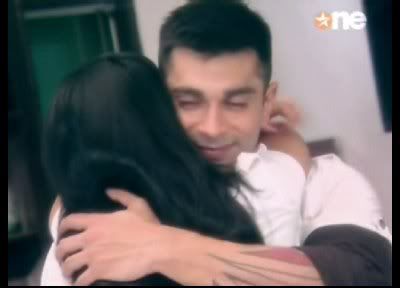 Tabhi

Voice : DR. ARMAAN

Dono arsh apni masti se bahar aate he n look towards the person that person is none other then dr. riddhima siddhant modi

Arsh dekhte he ki sab old gang,sid sab door pe khade he with their mouth wide open n riddhima gusse me

In sabko dekh riddhima ko itne gusse me dekh shanu dar jati he n her grip get tighten over armaan

Armaan ko ye feel hote he or wo shanu ki taraf dekhta he he saw she is scared n tears welled up in her eyes

Uski ankho me aansu dekh armaan ko bohot gussa aa jata he

Armaan apna face fir in logo ki tarah karta he kuch pal pehle tak jin aankho me mischief hoti he ab unhi aankho me gussa he his eyes are red

Armaan : GET OUT ALL OF U RIGHT NOW"he said while gnashing his teeth in very dangerous low voice"with this he side hug shanu n turn his face towards her

Sab dar jate he armaan ka ye rup dekh kar or fatafat waha se chale jate he

Sab locker room me he

Sab log shanu ke room me tab aaye jab arsh ladai kar rahe the un dono ki hasi sunkar sab us room me gaye the

Sab rahul se puchte he ki waha or kya kya hua becoz wo pehle se waha tha

Rahul thora hesitate hota he fir sab bata deta he how he found arsh sleeping on same bed armaan's kiss their cute fight etc etc...

Ab sab fir sochme padte he unke mind me ek kone me ye tha ki armaan sach bol raha he ki wo us ladki ko nahi janta but rahul ne jo kuch bhi kaha or unlogo ne jo dekha usse to yahi lagta he ki armaan jhut bol raha he sab disappoint he ki armaan ne unse jhut bola n riddhima wo to angry,disgust,hurt.....

Sab soch me he tabhi armaan waha aata he

Armaan : DR. RIDDHIMA SHIDDHANT MODI"he said angrily"
Ek pal ke liye sab shiver hote he uski itni dangerous voice sunke

Armaan : tumme itni bhi samjh nahi ki kisi patient ke samne kese behave karna chahiye or tum log.. private room ka matlab kya hota he kya ye bhi nahi jante esi kya emergency thi ki sab ke sab ek saath aa gaye jante ho tum log kitna dar gayi thi shanu"he said angrily"

But riddhima had enough of him so she imtruppt him n says

Riddhima : DR. ARMAAN MALIK hum log to jante he apne patient se kese behave karte he but shayad aap bhul rahe he hum log aapne patient ke saath SAME BED PAR SOTE NAHI HE."she also match his voice"

Sab log bas chup chap dekh rahe he

Armaan : me..."but riddhima stops him"

Riddhima : ab ye mat kehna ki ye jhut he kyuki rahul ne apni aankho se tumhe us ladki ke saath same bed me dekha or hum sabne bhi dekha ke kese tumne use gale laga rakha tha ab chup kyu khade he aap DR. ARMAAN MALIK KUCH BOLIYE KYA YE AAPKA KOI NAYA TARIKA HE APNE PATIENT SE DEAL KARNE KA

Armaan thori der chup rehta he n starts to think ki wo shanu ke saath ek bed me kese
He remember ki kal raat kya hua

Dono so rahe the shanu bed pe or armaan stool pe tabhi shanu restless feel karne lagi she was moving usse armaan ki nind khul gayi he try to smooth her she was getting sweaty

Armaan : shanu shanu shhh bura sapna he kuch nahi dekho aankhe kholo dekho me hu yaha tumhare paas dekho tumhara armaan he shanu"while saying this he move on the bed"

Shanu ek dam se aankhe kholti he or armaan ko apne samne dekh hug kar leti he

Armaan uske baal sehlata rehta he or dheere dheere wo nind me chali jati kuch der me armaan bhi is tarah wo dono same bed par aa jate he

Back to present

Sab armaan ke jawab ka wait kar rahe he but armaan wo to kahi khoya lag raha he

Riddhima : kya hua ab kuch bolne ko nahi he tumhare paas kal jab sabne pucha ki kya tum us ladki ko jante ho to tumhara jawab tha NAHI aaj kya kehna he tumhe is bare me"she ask him while folding her hands over her chest"

Armaan riddhima ki aawaz se apni trance se bahar aate he n says

Armaan : mera jawab aaj bhi vahi he ki ME NAHI JANTA USE

Anjali : armaan ab bas karo jo sach he wo batado hume

Armaan : tum log kyu yakeen nahi kar rahe mera me sach me nahi janta use

Rahul : to wo sab kya tha armaan jo humne dekha aaj nahi us din se jabse wo ladki mili he bolo armaan tumhara uske liye ye pagalpan,wo aggression,us raat tum jaan se maar dete us sheik ko

Us sheik ka naam sun kar armaan ko fir gussa chadne ladta he

Sid : us sheik ka naam sunkar hi tujhe itna gussa aa raha he esa kyu armaan

Nikki : tum har pal us ladki ke saath ho armaan kyu ek pal ke liye bhi use akela nahi chod rahe kyu

Muskan : kya lagti he wo tumhari

Abhi : kya rishta he usse

Atul : mere bhai batade hum sab dost he tere

But armaan kuch nahi kehta in sabke ek ek sawalo ke saath saath wo unsteady steps se locker room me rakhi bench ki taraf badhta he or ek dam se us par beth jata he

Uske mind me bas in sabki baate hi chal rahi he sabke sawal ghum rahe he

Sab chup ho jate he or armaan ki taraf dekhte he uske face par kayi emotions he jese ki emotions display ho raha ho

Wo bas betha he same position me or us raat se lekar ab tak hua ek ek waqya uske nazaro ke samne ghum raha he

His head starts to pain armaan hold his head in his hand

Sab armaan ko is tarah dekhte he wo ek damse bohot pale dikh raha he so they ask

All : armaan armaan kya hua u ok tu thik to he

Armaan : mujhe kuch samjh nahi aa raha me... me... me sach bol raha hu guys me nahi janta us ladki ko, kon he wo??"armaan apna face utha kar un sabki taraf dekhta he n ask them with frustration n utter confusion"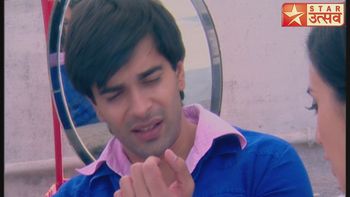 Riddhima : ab bhi jhut bol rahe ho tum armaan

Armaan : me kyu jhut bolunga tum logo se tum sab dost ho mere me sach keh raha hu rahul sid champ yakeen karo me nahi janta us ladki ko KON HE WO?????




Armaan said with frustration,sadness,anger,

confusion wo sabko samjhane ki koshish kar raha he but koi manne ko taiyar nahi uski baat all isliye wo frustrate ho raha he...

To Be Continued...
;)




--------------------------

--------------------------

------------
So here is the update hope pasand aaye do tell me guys give ur reviews m waiting


--------------------------

--------------------------

------------
hit likes
<3

n comment plz
:)
#shubhi