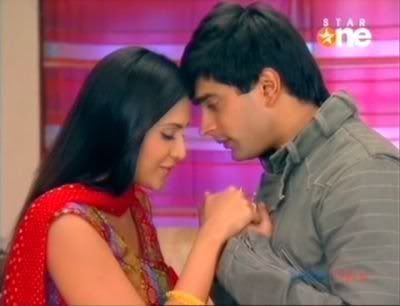 "Hey Ridz…" said a very cheerful Anji..breaking Ridhimaa's thought…
She was sitting in the locker room…deep in thought when Anji came dere after finishing the duty…
"Hi di…kaise ho aap.."
"mein tu teekh hoon lekin tujhe kya hua…" before she could answer……
"yeh ishq hai ishq hai aur kuch bhi nahin.." singing this…Atul entered the locker room…
"Atul..yeh tum kya kar rahe ho…" Said anji a bit angry on him…
"Arey anji aaj Valentine's day to kuch special tu gana chahiye na…"
" bilkul sahi kaha Atul…aj kyat u din hi khass hai……hayye…such a romantic day" said Sapna…
"kya baat hai Amit ki yaad arahi hai" said Atul..teasing her…
" arey who tu ayegi na Atul…subah se nahin dekha usko"
" oye…kya baat hai tu madam ji ko yaad arahi hai haan" said Muskaan ending it wid her typical laughter….
"oye Muskaan chup kar…har waqt tere batisi bahar hoti hai…" said Rahul…
" haan tu mere hoti hai na…tujhe kya hai….."
"waise guys…kya mila aaj sabko……" asked anjali…
"mujhe tu yeh pendant mila" said Sapna…showing to all…
"aww…so cute…mujhe ring mili" said anji…
"mujhe is khote ne.,….yeh braclet diya." Said Muskaan…
"aur Ridz tujhe….."Asked Muskaan but stopped in her track..seeing tears in Ridz eyes….
Hey Ridz..ro mat yaar…Armaan next week ajaega na…tujhe pata hai na…who kaam se gaya hai…warna tujhe aise chor de..woh bhi Valentine's day pe…impossible… said Sapna…
" mujhe pata hai who mujhe kabhi akela na chore…magar aj kuch bechaini hai…..mein nahin janti kya…" n she run from thre towards the terrace wid tears running down her cheeks…she moved there n stood in the center of the terrace…it was all dark…n nothing can be seen….but she was already blinded with her tears…….
"im missing u Armaan…plzzz jaldi wapis ajao……" she said crying badly…
A spot light lit n was on her…she looked around to see wat it is…but couldn't see anything….
Someone spoke…
"You're one in a million, my most special one..Your radiant smile is as bright as the sun…You're smart and caring and have many great charms..And my heart really sings when you're in my arms…I'm happy you chose me from all of the rest…And I'm proud 'cause I know that I got the best….You're so cute and so sweet, and you glow like a pearl…I just love you so much, my most wonderful girl! I love you a lot Shona……" n he came in front of her…dressed in a white shirt…n denims….her Armaan..
She was shocked hearing this……n surprised to see him there he was suppose to come after a week from the conference in Singapore n here he was standing in front of her….he came close to her…n pulled her in a tight rib crashing hug…which bring her out the shock…telling her that its not a dream…but he really…there….n she reciprocated the hug…n then both pulled out…smiling n feeling happy n he kissed on her forehead….…
" I love you too Armaan…more than my life……"
Then another spot light lit n a table for two can be seen…wid rose's n candles on it…n a small chocolate cake n champagne bottle on the other side… the candles lit on all the sides of the table…in a heart shape..making it looking breath taking….he lead her towards the table kissed the roses n gave to her..which she took wid a big smile n cut the cake n feed each other….n then they both settled down…holding each other's hands…eating n cherishing the moments of togetherness….
After the dinner…Armaan pulled Ridhimaa for a dance…n a small place for a dance lit up… the wind was blowing…making her hair flow…n coming on her face…Armaan came behind her…n pulled the hairs away from her face…n kissed on her nape..whereas Ridz started singin……..
yeh saajish hain boondon ki koi khwaahish hain chup chup si
yeh saajish hain boondon ki koi khwaahish hain chup chup si
dekho na dekho na
dekho na dekho na
hawa kuchh haule haule zubaan se kya kuchh bole
kyon duuri hain ab darmayaan
dekho na dekho na
dekho na dekho na
phir na hawayen hogi itani besharam
phir na dag mag dag mag honge yeh kadam
haa saawan yeh seedha nahi khufia bada
kuchh toh baraste hue keh raha
samjho na samjho na
samjho na samjho na
hawa kuchh haule haule zubaan se kya kuchh bole
kyon duuri hain ab darmayaan
dekho na dekho na
dekho na dekho na
jugnu jaise chahat dekho jale mujhe
meethi si mushkil hain koi kya kare
hmm hothon ki arzi aaise thukraaon na
saanson ki marzi ko jhuthlaaon na
chhuu lo na chhu lo na
chhuu lo na chhu lo
hawa kuchh haule haule zubaan se kya kuchh bole
na duuri hain ab darmayaan
dekho na dekho na....
dekho na hmm hmm hmm
hmm hmm hmm dekho
both were lost in each other…living in the moment…hugging each other….
Suddenly the firework started n on the sky lit up…. " I LOVE U RIDHIMAA….HAPPY VALENTINE'S DAY"
She couldn't believe wat she saw…how someone can love her so much…that he came all the way from Singapore…just to celebrate this day wid her….her eyes got wet…n Armaan saw her getting all emotional…so he swiftly moved her towards him n cupped his face…wid telling her signaling wid his head…not to cry…….n kissed her forehead….
N then kissed her eyes..cheeks…nose…chin…teasing her…she finally pulled him by his collar…n kissed him on his lips…taking him by surprise….they kissed each other like if they left…the other one will disappear…nibbling each other lips…n exploring each other mouth….Armaan pulled her more towards him…by her waist…n she caressed his nape…making him more passionate…
Slowly they came out of the kiss…n joined their heads…feeling blessed….
"mein ne tu apna Valentine's gift de diya…mera kahan hai" asked Armaan…looking in her eyes….she smiled n said.. "yahan" putting his hand on her belly….
" yahan…kya Basket…tum bhi mazak acha kar lete ho…" he said wid a frown removing his hand…
"Armaan"
"kya hai……" n she looked at him angry…n then it hit him…gosh…
" u…u…r….pregnant…" she nooded…."omg…….i gonna be a father…I cant believe it…"
"thnx u sooooooo much Ridhimaa Armaan Mallik….this is the best Valentine gift I got….luv u shona…"
He bent down on his knees…n kissed on her belly… "happy valentine's day baby…come soon…papa is waiting for u…" n kissed again………then looked towards Ridz…who was having tears in her eyes…
He wiped them n kissed her forehead…n then took her in a tight hug…….feeling his complete wid his life in his arms…
Others who came after Ridz..where also in tears…seeing the intensity of their love…….n giving them blessing to be like this for ever…………
*********************************************************************
take care...
loads of love...
anu...........