Shilpa screamed aloud. She was clutching her hands on her stomach. It was hurting badly. She again screamed aloud "Hima, Nidha where are you guys?" Both came in to her room "What happened di"
"I think its time to go to hospital. Its hurting a lot " Hima and Nidha both panicked to watch her state. Hima told Nidha to look after her and bring her down while she hire a cab to get her to hospital. With great difficulty she settled her on back seat. Both girls were extremely worried for her. They were praying in their mind to give her strength to bear this pain. This was a complicated pregnancy,still she chose to go with this. She was an orphan nd now having her own blood was a bliss for her.
"Congrats guys. Its a baby boy" Hima and Nidha was over the moon to hear this news but were worried for Shilpa "Dr how is Shilpa Di?" Don't worry guys. She will be here in few moments. wait till she get conscious. Till now she is under sedatives so she may not respond for few hours but after that she will be fine." Mean time nurse brought that child out and give it to Hima and Nidha. He was extremely beautiful child with a fair color and greyish blue eyes..
Both felt very nice to have him in their arms. Nidha "Di has suffered a lot but now it seems it was nothing compare to have him in your arms. I wish Shilpa di wakes up soon" Hima nodded her head. She was not able to utter a single word. Shilpa became conscious after few hours and Nidha told her "Di congrats.Its a baby boy. Don't know he is very average boy"."Where he is" Shilpa was waiting for her bundle of joy and was in no mood to wait much longer. "Patience di. Patience. you know patience is the key of..." "Shut up both of you and give me my boy"
"Di aap to hum ko bhi bhool gayye ho that is not fair" she said pouting a little... Nurse brought him to her mother. Tears rolled down from her eyes when she took him in her loving embrace...He was exact copy of his Father"Armaan"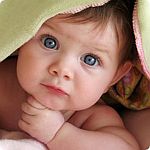 She sighed and kissed him on his forehead . To have a warmth of his mother,His smile adorned his face . Not to forget he got his dimple from his father . She too smiled to have him nd hugged him tightly.In her mind "Main is ka naam Ansh rakhoongi. Armaan ka Ansh.." Hima nd Nidha both had tears in their eyes. "I wish di aap ka pyaar aap ko mill jayyein.. Agar unko pata chalta, he'd be the happiest person on this earth now."
After one year ...
It was not easy job to look after this one year devil. His birthday was coming and there are lot of things to take care. Hima, Nidha both decided to go to mall for shopping, As Shilpa was busy in her job. Both picked him up.They were busy in selecting clothes for him and both just forget about his whereabouts. Armaan watched a boy tugging his jeans and crying loudly. He felt like his heart is beating wildly while watching him wailing. He picked him up and wiped his tears. That boy smiled a little after getting his warmth. He'd not understand why he is feeling so connected with this little boy. In his mind " How stupid his parents are? what if some thing happened to him or he got himself hurt? i swear i won't spare them ..." In between Hima and Nidha were looking for Anshu. Tears oozed from their eyes. While looking for him.. They were shouting his name and searching him fanatically. Suddenly they saw him sleeping on shoulder of a man . They rushed towards him." Excuse me, This boy is with us." Armaan shouted on both of them "How careless you are. You left this little baby in this crowded place. What if something happen to him? If you can't take care of him then why the hell you brought him here? Are you nuts.." but stopped when he looked at their faces both were scared and tears were flowing on their cheeks. He apologized instantly nd offered them for a lift. Both nodded. As there was no energy left in them. The ride was very silent. Nidha offered him a cup of coffee and he accepted it instantly. He wondered why he want to spend his time with this boy or to know him more. Nidz give Anshu to Armaan and Hima was opening the door. "Bhayia is ko mere ko dijiye main is ko is ke room mein sula deti hoon."
" No its ok where his room is ?" He asked while tapping his back lovingly... This way. She signaled him towards a door.. He nodded and went inside. He placed him on his bed and kissed him on his forehead. He froze at the spot when he saw picture of Shilpa. "Shona" he whispered slowly. "Anshu is my son?" he was hell confused. He remember that night clearly.That means in Goa. He spent a night with her.. Though he never promised any thing to her but after that he was never able to go to any girl. She destroyed him totally. No one was able to touch his soul like she did!!! But why she left me ? why she never come back to me or never tried to contact me." So many questions were hovering on his mind but none of them answered .
Hima called him and he came out of his trance... Bhayia coffee. She offered him a cup and he gladly accepted. " Hima who is this lady?" He asked. He cursed himself in his mind Heck even i don't know her name. "She is mother of ANSHU and our di Shilpa Malhotra" Tell me something more about her . He knew this question was not appropriate but still his inquisitive nature take over him." She is an orphan we came here for studies and she joined us in this apartment . we take care of her son. This little boy is jaan of us and we love both of them so much. She work in Khanna industries as a secretary."
"You mean for CEO Vivek khanna" "Yeah..do you know him?" "Hmmm" Blood boiled in his nerves when he listened his name. He come back to his mansion but was lost in her... He want her to be with him. He was feeling very lonely but there was no one in his life to share his sorrows, no one to give his shoulder to cry. His heart wanted some one by his side but who? "Shona !!! he whispered her name inaudible to any one but was lingering in his soul. Deep down he knew it was always her and will be. He poured a drink for himself to forget her but his fate was not at his side. He just want her fragrance to engulf his senses, he want his kisses to sooth his soul. He want her warmth to keep his head and sleep peacefully... Slowly -slowly very uncomfortable sleep took upon him...
"Di Anshu bahut naughty hai. Aaj is ne bahut tang kiya hum ko" Hima purposely hide that part because she knew how protective she is for Anshu."She smiled inwardly nd kissed his cheeks. "I know ye bahut naughty hai. Aur tum ko tang nahi karega to kis ko karega. Now please serve food. I have lots of preparations to made" Nidha went to Kitchen to arrange the food. "Waise what is menu of Today "Di aaj hum ne chines order kar diya. We were hell tired and di i am sorry? " "Sorry for what? It ok baby kabhi -kabhi nahi dil karta khana banane ka"
"No di actually its for not taking care of Anshu" what do you mean she asked skeptically. Actualy we were buying clothes for Anshu and don't know how he went from that section." Tears were ready to come out of her eyes. She knew it was a mistake these girls love him like their own son and all this was unintentional ."Phir vo milla kahan?" Actually he grab some one and that man was so sweet ,he had even given us ride to our home" Shipa thanked that man in her mind and went to her room after patting their heads lovingly...
She was looking outside the window. Rain was pouring in sheets. She still remember her time with Armaan . Love of her life .
Flash back.
She was flipping pages of Business magazine. That was her favorite Book. Armaan got award of Business man of The year. He was youngest achiever of this award. She very well knew about his Casanova image but still she love him so much. She never missed his interviews on TV or magazines. In-fact she love to collect his cuttings from any newspaper or to gather any information about him.Her friend Muski always tried to knock some senses in her but no avail. "Shilpa tu na kisi din dhikha khayegi. Tu janti hai na he is womanizer. He only love his work nd bodies to play with. How you can forget the pain he cause to every single woman. "She again spilled bitterly. She knew muski was right.So she just nodded and " theek hai muski main koshish karoongi ki main uske liye na sochu but you can't deny the Fact he is very good businessman." "Please try to keep your promise Shilpa its for your own good" She went to Goa to attend the marriage ceremony of Muski and Rahul. All her resolution fly away when she saw him, looking extremely gorgeous in that Aarmani suit. 'God why you made him with these killer looks. Why?' But some how she managed to look away from him. He was in that hotel to attend some conference. She escaped from there. She mentally kick her self and to calm her nervous she headed towards the beach. Her heart was thudding badly. All she knew was she love him so much but she again remember her promise to Muski. Time flew away and she was still sitting on beach . Rain started pouring down and sighing, got up from there to find a shelter. She saw a cottage near by and get in to stand there until this rain slow a bit.
Meanwhile the door opened. "Come In"A husky voice broke the silence. He opened the door. Heck he was standing there, right in front of her without shirt. Looking like a Greek God. Her heart stopped beating for a moment. She was avoiding him and he is again here. "Vo can i stay here until this rain stop " she asked him stammering." Get in .you are totally drenched. Dry yourself other wise you will fall sick" He pointed towards a bathroom door. "Wear something dry" he winked at her while sipping his drink.. A current passed through her body but some how she managed to get in that bathroom. "You are late sweet heart" He again added huskily. She was hell confused but ignored his question... Her clothes were clinging to her like second skin. And to avoid his gaze she chose to wear his bath rob. His fragrance was in it and was driving her crazy. She came out from bathroom . He was sitting near fire place."Drink" he offered him flashing his dimples. "Nahi i don't drink" "But its not a drink. It will keep you warm" he poured a glass for her.
His hand touched her wrist. "S" She was wearing a bracelet of "S" "s se shona. Hmm i love this sweet little name" A chill ran down in her spine. He whispered in her ear " You are beautiful" His grey met with green orbs. She wanted to drown herself in that ocean ,touch her abs, kiss him like manics. Her self control was loosing .His breath on her lips was playing with her sanity. He grabbed her tiny waist and pulled her closer to himself. He pecked on her lips. Goosebumps appeared on her skin. A desire appeared in his eyes. Her fragrance was making him insane. He tighten his hold grabbed her hips to bring her more closer. He probed her further to open her lips nd let him enter inside her mouth. She was in daze .His hands were moving sensuously. He chewed her lower lip to open up. She opened up a little and that was it He sucked her lips drank her sweetness. First this kiss was very slow but soon turned into a passionate one. Armaan moaned in delight as her delicate fingers glide up and down over his chest. He deepened the Kiss and savored her taste again. On an impulse he yanked her Bath rob on the ground and pick her up in his strong arms. She never know about his Tattoos. That was enhancing his beauty making him more desirable She want him like he wanted her now. When She touched his arms, she felt her throat dry like she never had water in ages. His eyes were making her tremble. Hunger was visible in them. He again kissed her ravenously, placed her gently on bed but to his amazement she clung and forced him to come over him.She was so soft, so fragile, looking like a doll, which will break with a little pressure. Her bosom rose and touched his hard rock chest, which ignite his hidden desires. He dived in her cleavage, nibbling it, nipping it. Chewing it and she was panting for breath, her finger were in his silky hairs, moving aimlessly ,adding more fuel to his desires. She closed her eyes, decided to go with the flow. Let him take her to the new world of his love, which she never knew existed. She never wanted to stop him, As she knew this is her first and last time with him. She will never get him again. She want to live her life in this one moment, to feel loved, needed and to cherish it for her whole life. Armaan explored every bit of her. He glided his tongue from N**** to her navel. He want to taste every molecule of this Beauty. He licked her naval. She clutched the sheet tightly as she was preparing her self for pain. Her action amazed him and let him pondered over the thought 'She is virgin'. This pure beauty is more pure than he thought. How she never had S** in her life. He focused his astray thoughts and concentrate to make it easy for her. He patted her inner thighs gently, Kissed her Pelvic bone to ease her a bit, He gently stroke her thighs with fervor. Again kissed on her lips to let her open her legs and when she felt at ease he entered her. She clutched sheet more tightly, claws his back mercilessly, tears spilled from her eyes, something teared inside her but soon this pain changed into pleasure. As they move in harmony, She felt herself moving with him, responding his every touch.
She felt herself relaxing beneath him. Trying to match with his thrust. Soon he fell down on her panting badly, a smile was playing on their lips. He never felt this much contented. It was like she touched his soul. She touched him in every way. He kissed her again ,wrapped his arm around her waist. Why he was doing this? he asked himself "I never did this with any one else but he was exhausted to think straight. He Let the sleep took over them. Feeling tired yet blissful. She woke early in the morning still feeling tired. She smiled a little when she remembered the event of last night. She felt his head on her bosom, She at once get up when reality dawned upon her. She wrote a piece of paper for him.
"Armaan, I know you never believed in love. All you know is power and money.But for me this night was enough to spent my life. I promised you, No body will ever come in my life, No body has right to touch me like you did last night. Where ever may i go, I'll be yours ,all yours, till i breath .
As you named me.
Your Shona"
And she ran away from there ,to no where, trying to solve her mind. Muski was hell worried for her but some how she managed to convince her. After one month she came to know about her pregnancy. Muski cursed her a lot and tried to convince her to abort this child but she plainly refuse to budge. This was her love ,how she could punish a little soul. Na she couldn't . She left that place to stay here as PG, when she met with these two Angels. Hima and Nidha. They stood for her like her sisters. They are support of her in every odd nd she love them so much.She smiled nd slept peacefully on the bed.
He stirred a little when he lost the warmth of her body. He opened his eyes to locate her. At first he thought her to be in bathroom but he jumped from bed, when he found the door of Bathroom opened. He found a letter near the Side table of bed. His heart skipped several beats when he read her confession. He cursed himself. How he never asked her name, her address. Though he was sure she'd never tell him truth. A shrill ring of his mobile broke his trance. This was a call from his friend, who promised him to send a chick, He some how disconnected his call. And with this he lost her as well as hunger for a new flesh. Heck he tried to get back on his track but he always found himself comparing with her. She clouded his all senses. No one has power to overshadow her presence in his life. He was looking for her from that very day and now a new revelation of his son shaken him badly, his life but how? He has to work fast. That Vivek is a Ba***** and he can't afford him to near her. No way she is meant for him only and he won't allow any one to touch her ,to eye on her. He dialed no. of his secretary to know about Vivek.. He is throwing a business party Tonight. She must be there, but how he will get in, he was not invited as he was his rival... "Armaan soch -soch. There must be some way to get in. Yes Yuvi must be there. He can help me to get in.." He dialed his no and to his luck he was invited. "Yuvi i wanna accompany you there" Yuvi was hell confused. "The great Armaan Malik" who never like this Vivek guy, is trying to get in his party. Some thing is fishy no not some thing every thing is fishy. But Armaan won't disclose this so easily. So he played along and invited him to join in.
Armaan flashed his dimples and thanked him genuinely. But now he want to cuddle his son. He cancelled all his meetings and sat down in his BMW to get a glimpse of his son. He hesitantly rang the bell of apartment. "Oh god logon ko bhi na chain nahi hai. janne subha hi khali kaise hote hain." He listened rambling from inside and door clicked open. There he was his bundle of joy, crawling on the floor, all messy but still looking adorable, passing him a toothy smile, flashing his dimples. Till now he never know what a dimpled smile effects have on other but now it was visible. He was so lost in him that he even forget to wish Hima. "Bhaiya Aap itni subha!!!" She asked him worriedly. "Haan vo main dekhne aaya tha Anshu theek hai na" he mentally kicked himself 'kya yaar main kuch aur nahi soch sakta tha?' Please come inside. "vo toh khel raha hai" she pointed towards him. He at once picked him up in his arms nd showered him with his kisses. Core of his eyes were wet. He thanked shilpa mentally to giving him the most precious possession of his life. Anshu was not far behind his father, he too licked his cheek, leaving wetness on his cheek. Hima scolded him. "Anshu aisa nahi karte" but he stopped her. This love was incomparable, just out of this world. He can give up his life to feel this again. He was all alone ,his parents died in his young age and his relatives thrown him out of his own house after snatching all his money. He spent his whole life on roads, worked hard to come at this position. He earned a lot but lost his trust in every one. He all knew was this world only knew the language of power and money. If you want to command others than only one thing you need, the combination of these two but, she is different, She turned his world upside down. She has given him herself nd never demand once. She come in his life like a breath. He had seen many women in his life. Some want him because of power and other for money, no one came to him for him. He knew his effect on women and he took full advantage of this. But She never came back to claim any thing from him and now this boy, his own flesh is looking at him,peeping in his soul. He kissed him again."Hima main yahan is se milne aa sakta hoon" haan bhaiya kyun nahi? " he gave him to her nd left abruptly ,more determine to make her his forever...
Armaan entered in that party hall with Yuvi. His frown was visible o his forehead all he wanna is his SHONA. And he found her standing there with his boss. Vivek was trying to hold her waist. In a second he knew how uneasy she was feeling. He at once moved towards her. Her back was facing him. He slipped his hand on her waist. She gasped when his hand touched her. She knew his touch . He smiled at ,when he saw his effect on her. Vivek scorned when he saw him holding her protectively. "Hi Mr.Malik " He tried to suppress his anger but failed miserably. He smiled at his reaction and pulled her more to himself, kissed er on her forehead "I missed you Shona" She was hell confused he missed her why? but she thanked him in her mind as he dragged her towards the secluded corner. Vivek again tried to get her back but he refused to leave her. Vivek grabbed her hand and this was enough for him. He kissed her on her lips, in front of him, to claim her as his own. Vivek backed off. And he left that party with her .
"Armaan aap yahan how?" She was still in daze after the events happened back.there, but he never answered her questions. He stopped his car in front of his mansion. " Come in Shona" He opened the front door. She was looking at that living room in amazement. It was very well furnished with a classy touch. He signaled her to come along. His bedroom was very pretty. He hold her hand hugged her tightly, as he will never let her go. She was still unsure of her feeling? why he was reacting like this? She tried to decipher his feelings in his eyes but there was only love in them . Love for her? No this is not true. Her brain warned her but heck her heart was not listening her. She tried to speak but his lips covered the distance between them. Once again his demons come out which were buried deep down in him from ages. His love was standing right next to him he has to make her believe in him, in his love. "Shona I love you. I know this is not easy for you to believe but trust me. No one ever touched my soul like you did. I was all alone looking for unconditional love, but failed every time. But you came and shaken me. You never came back to demand any thing. In the morning i came to know about you. I acknowledged you to some one else like- like another S**** but your letter changed my vision to look at world. I was looking for you, but knew nothing about you, not even your name. I even tried to forget you, to go to near some other girls but you never left my mind. It disgust me to think about some one else. Please marry me. Please." Tears roll down from her eyes "I love you Armaan"
Listening these most valuable words from her was his last wish. He hugged her tightly ,pulling her more in to himself. He showered her face with all love he has for her, "Shona jane kitni baar maine khyalon mein is pal ko jiya hai, but i was not sure whether in reality i 'd ever listen this from you. Thanks for your love Shona ,Thanks for Anshu. pata nahi kaise tum ne ye sab manage kiya hoga, kaise sab ko batya hoga. Shona maine hamesha har ek ko kisi selfish reason se kisi se pyaar karte dekha hai, par you are the exception. I not only love you but respect you a lot. You have given me my family, my faith, my son. Actually you have given me yourself and never expected any thing in return. And i must say You are my life now. I promise to give You the World". "Aap anshu se kab mille" She was surprised to listen this new information. "Thanks karo uska. It was because of him. I am with you. I met him in mall" He stated with a naughty grin and continued..."I felt a magnetic pull towards him.When i gave him back to Hima, it was like i had given my part to her. I was shocked to realize that this boy has magnificent effects on me but why? Answer was unavailable but when i saw your picture in bedroom. I knew why? "He smiled whilst looking at her with love. Lonely was disappeared long back... "Oh!! toh vo aap the" Hima ne bataya tha mujhe..
"Shona i want to feel you. It has been ages since i made love to you" A glint was visible in his eyes with lots of love. "But anshu meri wait kar raha hoga" She was worried for her son. "That is not fair yaar. Aur main jo itne saalon se wait kar raha hoon, vo to tum ko nahi dikha". He complained her with a pout. He picked her in his arms nd start pouring his love. His kiss was fierce, demanding very demanding, to open the way of his personal heaven. Her lips tasted wonderful on his. Her hands went up to his neck on their own volition and her lips pressed onto his. He kept her carefully on 'THEIR' bed. His hands were caressing her every where. His desire were inflaming all his body, Both were loosing all their senses.. He again kissed her till both fell out of breath. "Wow!!!! You still taste like heaven "AND again kept his lips on her... After a heart warming session of making love, again her attention diverted to Anshu. "Armaan let me call them please. They must be worried."
"Oyye hum abhi chalte hain. I want to thanks them personally. Unhone tumhara aur Anshu ka itna saath diya hai" He said while picking her clothes from the floor which were piled there with his own. He flashed his dimpled ,when saw her flushed face. "Let us go nd meet our Angels!!!" Ride was very silent ,but this silence was also warming their heart. His heart was jumping with happiness. It was not easy journey for him. His own so called blood deceived him and he lost his trust for every one and this girl changed him forever. Given him his own blood, he won't let any one harm her or his Angel. He make a promise to himself to protect them till he is alive. She was in deep thoughts of her past. She never trusted her fate, but how her life changed in a night. She never thought to get him in her life. He was dream of girls and now he is hers all hers. Dunno what good she had done in her previous life. She always felt that life is very hard, to get Armaan is like living a dream nd now she is living this.." He called her but she never responded back. He placed his hands on her shoulder nd pecked on her lips. Heartbeat rose at once nd her cheeks turned pink . He winked, to watch his effects on her. 'Man her annoyed expression are not less than her blushed once '. "Challen" He signaled her to come out. "Hum mm" She nodded nd rang the bell of her apartment. "Di ,aap itni late kaise ho gayye. Aap to.." Hima asked her but was unable to speak when she saw him standing behind her, smiling."Bhaiya, aap yahan..." Meanwhile Nidha too joined her, who was patting the back of Anshu to make him sleep. "Yea abhi tak soya nahi" she asked Nidha while taking him in her arms. "Nahi vo aapki wait kar raha tha" Nidha welcomed them in living room. "Di aap bhaiya ko jante ho" Hima again inquired skeptically. Armaan smiled at her protectiveness nd selected to tease her "Hima tum ko hum dono mein se ek ko select karna hoga" But why" She was confused "Kyunki agar ye di hai to main jiju hoon aur agar main bhai hoon to ye Bhabhi" He replied with a very straight face. Her jaws dropped to her knees when she listened this. But girls were no less than him. "Ok then you are my brother nd Nidha is sis of Shilpa di. Now this is equal equation" Hima replied with happiness in her voice. She was happy to find a brother in him."Shilpa was always like sis to her nd will remain the same, no matter with which name she call her. Armaan nodded and put his hand on her head like a big Brother.
"Girls kal se tum sab mere saath mere pass rahoge and for this i won't accept any argument. And i want to thanks you personally for taking care of my life. kal Shilpa ki aur meri shaadi hai." But bhai hum kaise rahenge wahan" Nidha was still not ready to stay with them. "Jaise tum ne mere ko akele nahi chhoda waise hi main bhi tum ko nahi chod sakti nd that's order of your sis as well as bhabhi. Ab to do rishte hain. aur waise bhi Anshu aur Hima ka birthday bhi to celebrate karna hai 16 ko remember. Ab to Armaan bhi humare saath hain ,toh khushi bhi double hai."She replied to her. Armaan took them in group hug.He smiled to watch the four important people of his life...
Ritu